Texthelp and Belfast Met: New Apprenticeship Partnership Supports Growth and Development
Belfast Met's Centre for Skills and Apprenticeships continues to play a key role in designing, developing and delivering flexible employer-led solutions in apprenticeships across a diverse range of industries. Belfast Met has been delighted to be working alongside Texthelp, the education and corporate technology company with 30 million global users, during their exciting period of strategic growth and development.
The College's apprenticeship programmes have supported Texthelp's talent acquisition and talent development strategies, and the College is fully committed to further developing this partnership and to expand the provision.
Texthelp has successfully recruited a range of apprentices and this new partnership with Belfast Met has provided development support during key periods of growth, as well as digital learning solutions from recruitment stage through to delivery.
Aidan Sloane, Head of the Centre for Skills and Apprenticeships at Belfast Met, confirmed: 'The College is pleased to be working with a global company such as Texthelp, which endeavours to help others develop skills as much as we do. The College is committed to ensuring that apprentices thrive in their chosen career pathway and our partnership with Texthelp supports our ethos towards holistic learning so that apprentices can gain the necessary skills and development in order to prepare them for the next steps in their future career.'
Texthelp's mission is to help unlock potential and this is why the apprenticeship programme within their organisation is working so well. They have a total of 240 employees and recruited three apprentices to their Antrim base last year; one apprentice is working in the Marketing department and two apprentices are based in their IT section.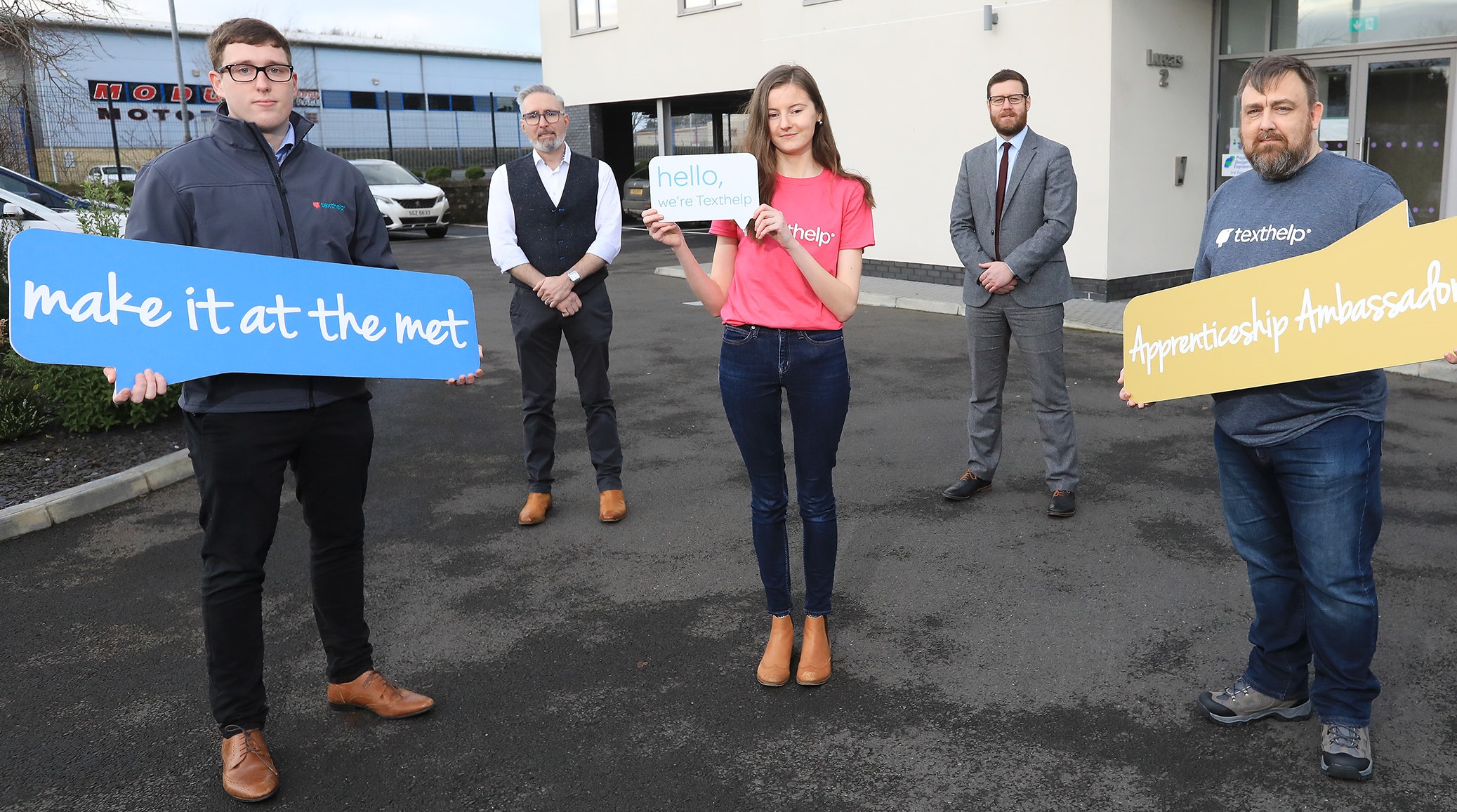 In the past 12 months, Texthelp has played an important role in supporting the 1.5 billion children who have been learning at both school and home due to the COVID-19 pandemic. The company has helped students to avoid learning loss by providing online products and tools that make remote learning more effective by improving confidence and understanding in reading, writing and maths.
Texthelp also played an important role in helping 13 million people who suddenly moved to remote working and may have needed extra support. The company further supported businesses in reaching their core audiences at a time when so many aspects of life have been digitised.
Texthelp is keen to offer ambitious people a life-shaping chance to succeed in an exciting career as part of its apprenticeship programme in partnership with Belfast Met.
Martin McKay, CEO at Texthelp said, "The purpose of our business is to help people understand and be understood and it's our mission to help unlock everyone's full potential. That applies to our own staff base as well. We're committed to developing the future workforce. This year we've taken on board three apprentices for the very first time to work in areas where we see increasing demand - software development and social media. We're delighted to be working with Belfast Met on the apprenticeship programme. It will help us develop the key competencies of the staff we require to help us with our growth plans."
This new partnership between Belfast Met and Texthelp has been very successful; both organisations are aligned to the same values and goals of helping learners to develop new skills to achieve their goals, with a focus on social inclusion. Employers engaging in apprenticeships programmes benefit from growth and improvement in productivity in their businesses, whilst also contributing to the skills needs of the Northern Ireland economy.
For more information about apprenticeship business solutions at Belfast Met go to https://www.belfastmet.ac.uk/apprenticeships/how-apprenticeships-work/