Mainstreaming assistive technology at Western Sydney University (WSU)
Mainstreaming assistive technology at Western Sydney University (WSU)
WSU is one of Australia's leading universities, ranked in the top 400 in the world. With 49,000 students across 11 Sydney campuses and online, they serve a wide range of students from culturally and linguistically diverse backgrounds. Technology is an essential part of the teaching and learning experience at WSU.
Tangible results
- Have mainstreamed the use of Read&Write throughout the university since 2 years ago
- 400% increase in usage in the last 2 years
- They are planning to incorporate OrbitNote into their course design
Background
Western Sydney University (WSU), established in 1989, is a multi-campus university in the Greater Western Sydney area. WSU is one of Australia's leading universities, ranked in the top 400 in the world. The university accommodates 49,000 students and over 3,500 staff.
WSU faces the additional challenge of a multi-campus university. There are 11 campuses spread from Sydney city through to Lithgow and also online.
The university serves a wide range of students from culturally and linguistically diverse backgrounds. There's a high population of first-in-family students, and 1 in 35 students are registered with the Disability Service.
All classes have an element of online learning through vUWS (their Learning Management System). Classes are taught in person and online depending on the course. WSU also offers "Hyflex" classes, delivered both online and face-to-face at the same time. Students use their devices in the classroom, at the library, in computer labs or Access Rooms. These rooms have a wide variety of Assitive Technology (AT) software/hardware available. The students can adjust their working set up to suit their needs. If they want a height adjustable desk, or adjustable lighting - that can all be accommodated. Of course, students also use their devices at home and on placements.
Using technology is an essential part of the teaching and learning experience. Devices are required for communication, research, and assessment. Lots of the students at WSU use EdTech tools to help with note taking, and to keep digital study files.
Access to devices can vary too, some students may have limited or shared access to a computer. Perhaps, they have to share with kids doing homework or share with parents. Some students may not have a computer at all, and will be using a tablet device or their mobile phone. There are students who have older devices that make doing work harder. Coupled with poor internet connection this can make studying difficult. Financially - many students are on a low or limited income while studying. Having the most up to date technology and the best internet connection is impossible.
We arranged to have a chat with AT Specialists, Natalie and Sally, to see how students at Western Sydney University make use of technology, and the challenges some students face.
The solution
We asked Natalie and Sally to tell us what motivated the university to look into EdTech solutions. "There was a desire to support our students in a way that increased their agency and improved their independence. It needed to be something students could pick up easily, and that worked across multiple platforms and devices" said Natalie. Sally added "It also needed to be sustainable for the university, both financially and in terms of training and support".
We asked Sally if there was a particular issue that motivated the search for technology? "We wanted to reduce the reliance on human support, having a person read aloud or acting as a scribe. It was very expensive to maintain, and moving to technology allowed us to offer consistent support at scale". WSU has been using Read&Write from Texthelp for years, we asked Natalie why Read&Write appealed?. "We liked the ability to use Read&Write across multiple platforms, including our LMS. We appreciated that it is highly customisable, students can tailor it to their needs. The option of a site wide licence is fantastic, we can provide access to all students and all staff". Read&Write is now used by the majority of universities across Australia and New Zealand..
Tangible results
Sally told us that they appreciated the level of support that was available to them, and still is. "We have great support from Texthelp - the team is always willing to jump in and investigate any anomalies we come across. We collaborate on any training sessions we need".
We wanted to understand what features the students at Western Sydney University enjoy most. AT specialist, Natalie, let us know. "One of the big things that students appreciate about Read&Write is the ability to OCR their own documents".
OCR means optical character recognition, it takes text from physical paper or books and converts it into digital text.
Natalie continued "Students can turn any of their personal research documents into an accessible format. This provides greater flexibility when it comes to studying and researching. Of course, staff still need to create accessible content, but it helps a lot when content is outside the control of the university".
The research folder and highlighter tools are also very popular. This gives students an easy way to capture, categorise and collate their research. Then it's readily available for them to use, it's organised, neatly laid out and easy to navigate.
The AT team at WSU have also heard a lot of positive feedback on the Audio Maker function. This allows students to turn their readings into an audio file, as Sally explained. "Students can access their research from anywhere, as they go for a walk, drive the car or even clean the house. This kind of flexibility brings balance into students' lives. Not to mention the science behind movement and learning that backs this up as a great approach!"
When we asked if they had any student feedback that we could share with our readers they told us, "we spoke to a PHD candidate lately who said, 'Natalie and Sally gave a very clear explanation and demonstration of the Read&Write software and how it could be used to support the reading, writing and critical thinking of research. I'm two years into my PHD candidature, and I wish I'd known about this assistive technology sooner.'"
The AT Team also supports Shelly Zheng, who has feature on our Texthelp Talks podcast. You'll find a link to the podcast in the resources section below. Shelly uses Read&Write to translate content into Chinese, so she can make sure she understands assignments and exam questions.
Sally added another example of how students can make use of Read&Write, "Many students struggle with focus and retention, needing to re-read the same passage over and over again. They tell us that being able to listen while they read helps them to focus for longer, comprehend more readily and retain more information. It saves students a lot of time and lets them concentrate on preparing their responses to tasks".
Summarising their experience Natalie told us, "Learning outcomes have been improved in many cases, or simply been supported in a way that means they can achieve the same result, but with less effort. This makes the requirements of university more sustainable and achievable for many."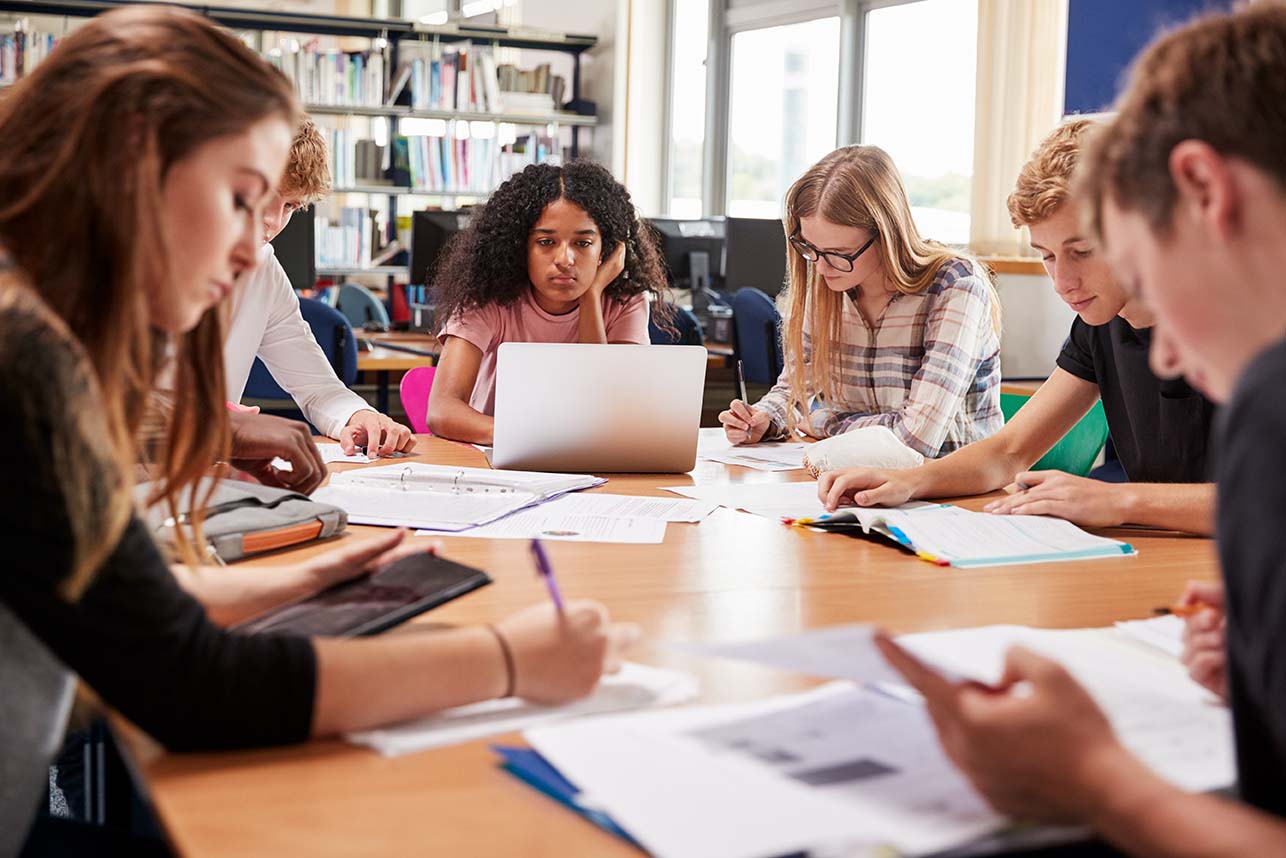 Lasting impact
By mainstreaming assistive technology, WSU make sure that everyone can benefit from the features. There's no stigma associated with using tools like this, people can dip in and out as they need to. As Natalie added "We've seen time and time again that AT can support the diverse needs of our students in a wide array of circumstances, studying a vast range of qualifications". We asked Sally if they had any advice for other universities? "We strongly encourage other institutions to do the same as us, by offering AT to everyone, both staff and students. With the support of the staff at Texthelp it's been easy to roll out Read&Write across our university".
Since mainstreaming Read&Write nearly 2 years ago Western Sydney University has seen a 400% increase in usage. We asked the AT Team what's next for WSU on their AT journey? "We're looking forward to getting OrbitNote awareness out to our Academic staff and seeing how and when it can be incorporated into course design. We can see the potential benefits there, ready for the taking!"
We'd like to thank Sally and Natalie for taking the time to chat to us about their Read&Write experience.
Contact us
If you would like to find out more about how Read&Write can help students at your university, please reach out to the team for more information. We can arrange a demo for you, or even kick off a pilot programme for you to see Read&Write in action.
Useful resources
Check out these higher education resources to explore how technology can help students in the transition from school or college to Higher Education.
Support technology for higher education
Our support technologies help students in the transition from school or college to Higher Education. Where there's a greater focus on independent learning and self-study.
Podcast: Assistive technology in practice
Western Sydney University student Shelly Zheng tells us about her experiences of student life and accessing the tools and support she needs to complete her studies.