EY shares 3 ways that disability inclusion can power your business
Speakers:
Ernst & Young and Texthelp
1 in 6 people live with some form of disability. This is the largest (17%) minority group worldwide. Yet, only 4% of businesses are focused on making offerings inclusive of disability. With a disability inclusion strategy, businesses can create a better environment for a diverse workforce. Companies that have one in place also report 28% higher revenues, double net income, 30% higher profit margins, and strong next-generation talent acquisition and retention.
Join our webinar to learn how you can power your business with a disability inclusion strategy today and future-proof your business for tomorrow.
Register & gain insights from experts leading the way

Discover:
Strategies to power your business with disability inclusion
Best practices from EY that will transfer into your business
Strengths that come from different thinking
Inclusive tools that maximise talent in the workplace
Bonus Resource: Workplace Inclusion: Building the case for creating inclusive experiences for all.
Authored by Disability:IN and Texthelp, this research report explores how to create a workplace that empowers a neurodiverse workforce to thrive.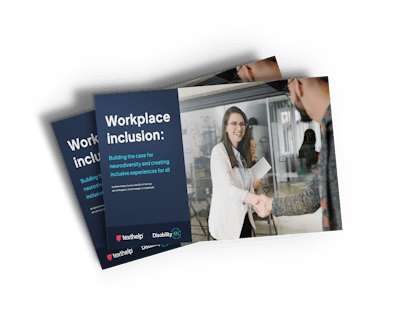 Accessibility: This webinar includes automated captions. By signing up, you'll receive unlimited access to the recording, slides and useful resources to catch up in your own time.
If you have any additional accessibility requirements, please contact Donna at d.thomson@texthelp.com.
Who will this webinar benefit?
This webinar is for anyone who recognises that disability inclusion must become a natural part of any organisation's DE&I strategy. Not only is it the right thing to do for our disabled community, it brings huge benefits for the business agenda, and the wider workforce. This includes:
HR Generalists, Talent Managers, DEIB Specialists (Diversity, Equity, Inclusion, Belonging), Training & Development Leads, Employee Engagement & Staff Performance Managers, Disability & Neurodiversity Champions.
Get your Certificate of Attendance
Tune in to get your Certificate of Attendance. It's a great way to share your personal achievements with your manager and new learnings with your community.