Check out these Back to School Updates to Read&Write
(12th September 2018) -

Jason Carroll, Global Product Manager
It's that time of year again! With school back in session, we're bringing new updates to over 15 million Read&Write users across the globe. Over the next few days, customers will see a new spelling and grammar check tool, additional updates to commonly used tools, and more!

A new way to check for errors
Tools that check for spelling or grammar errors are nothing new, but what about phonetic spelling, homophones or other confusable words? That's where Check It comes in. Check It is Read&Write's new and improved spelling, grammar, and confusable word tool that allows users to be notified of potential errors as they type.
Using our own spell check engine designed for individuals with diverse learning needs, Check It is continually being updated with additional grammar and spelling rules and exceptions to better meet the needs of our users.
Read&Write for Google Chrome
With this update comes Check It for Google Docs. Simply open the Read&Write for Google Chrome toolbar and click the Check It icon to enable the tool. You'll then see any spelling and other errors marked with a purple underline.
Click on any underlined word to see suggested edits. Within the list of suggestions, you can use other Read&Write tools like the Dictionary, Picture Dictionary, and Translator to help you make the right selection.
Did Check It mark a word as an error that wasn't really an error? Not a problem. Just click 'Ignore All' to ignore the error in the current Google Doc, or click 'Add to Dictionary' to add the word to your custom dictionary so that it is never marked as an error again.
Check out this short, how-to video to learn more.
Read&Write for Windows and Mac

Similar to Read&Write for Google, Check It in Read&Write for Windows and Mac works right inside of Microsoft Word on your Windows or Mac computer, underlining any spelling, grammar or confusable word errors in purple. By clicking on the underlined word, you can get a list of suggested corrections, ignore errors and add words to your custom dictionary in real-time while you work.
Check It also works in other programs, so even if you're outside of Word, you're covered. With Read&Write for Windows, just select some text and click the Check It icon on the toolbar. This will open up an external Check It window - a one-stop-shop that takes you through your errors one at a time and includes built-in dictionary definitions and descriptions of your errors. When you're finished, you'll see your revisions automatically added to your work. If you prefer this format, you can opt to use the Check It window when you're working in Microsoft Word as well.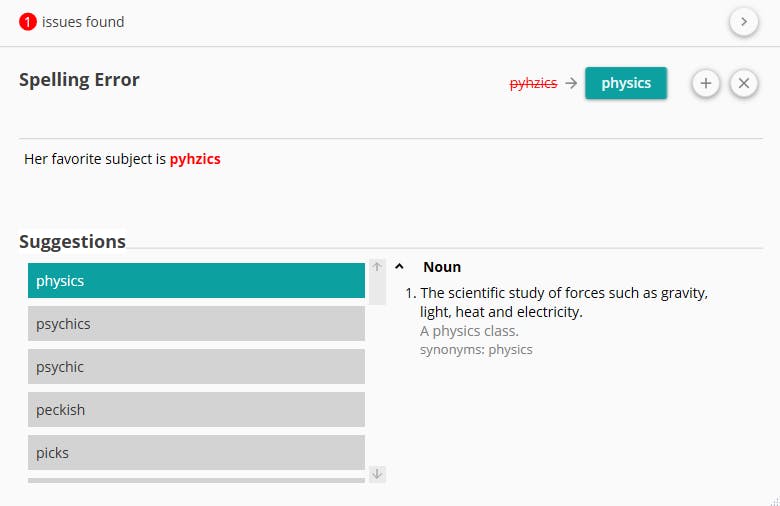 Read&Write for Mac offers a similar experience when using Check It in other desktop programs outside of Microsoft Word. Just select your text and click the Check It icon to open up the external Check It window, correct your errors, and return to your document with error-free writing.
If you've been using the beta version of Read&Write for Windows, you'll just need to do one quick thing to get the official Check It feature once you've updated Read&Write. Just go to the Settings menu, and in the "Check It" section turn off "Classic Spell Check". All other users of Read&Write for Windows and Mac will get Check It automatically on their toolbar.
Check It will replace 'Spell Check' on the Read&Write for Windows toolbar, and both 'Spell Check' and 'Similar Word Checker' on the Read&Write for Mac toolbar.
Additional updates to some of your favorite features
In addition to completely new functionality like Check It, we've also packed in several updates to tools you're already familiar with.
Read&Write for Google Chrome
Is your Internet speed running slow or do you need text to speech while on the go? Now Read&Write for Google Chrome includes offline voices that can be used when you don't have Internet. Available for Chrome OS, Windows, and Mac, offline voices allow you to take advantage of additional voices whether you're online or off.
With Screen Masking, you can now choose from additional colors, reset the tool to its default state, and select a new transparent option directly from the options panel. Coming directly from customer feedback, these options will help to make Screen Masking much more intuitive for a variety of users.
It's now easier to see what translations are available in Read&Write. In the Options tab, under Speech - Translation, you can now see the English description of every language available. This means that even if you don't speak the language that your student or colleague needs, you can still find it in the list of available languages.
Texthelp's PDF Reader is now compatible with EquatIO, our digital STEM solution. Thanks to this integration, students can have math within a PDF read aloud accurately for increased comprehension. Plus, they can input math directly into the PDF through a variety of different methods including dictation, handwriting, and more. Learn more about the update here.
Read&Write for Windows
In Read&Write for Windows, we've added several new voices including Italian, German, Polish, Scottish, and more. These voices are perfect for having foreign language content read aloud, or for international students reading content in their native language.
Read&Write for Mac
With the release of Apple's latest Mac operating system, Mojave, we've updated Read&Write for Mac to ensure it's compatible with this latest OS. This update to version 7.1 is now available - you'll get a notification on your toolbar to update automatically, or you can download the latest version from our website.
Keeping it simple with automatic updates
All new features and updates mentioned above will be rolling out to customers automatically over the next few weeks. Please note, Check It is a premium feature of Read&Write. To learn more about which features are included in a premium license and how to access them for both teachers and students, please visit our website.