Differentiate Your Classroom From Day One
(25th August 2017) -

Katie Spear, Educator, San Francisco Bay Area
This week we have a guest blog post from Katie Spear, an upper elementary school teacher in the San Francisco Bay Area. If you are thinking about differentiating your classroom as part of your #BackToSchool plan, you won't want to miss Katie's 4 strategies that you can implement on the first day of school!
The first day of school is exciting for teachers and students alike, and after a long summer break we welcome our new students into the classroom with a bevy of icebreakers, art projects, and other activities intended to help us set the tone for the school year.
Though fun, the standard "getting to know you" activities are rarely differentiated to meet the needs of an entire class. Differentiated instruction gives students of all backgrounds opportunities to learn, regardless of their abilities. When we consider the different needs of our students, and plan our teaching to meet these varied needs, our students are much more likely to be successful in the classroom. This is true for academic learning as well as socio-emotional learning.
There are four different strategies you can use and easily implement on your first day of school to create a flexible learning environment and accommodate the different needs of your new students.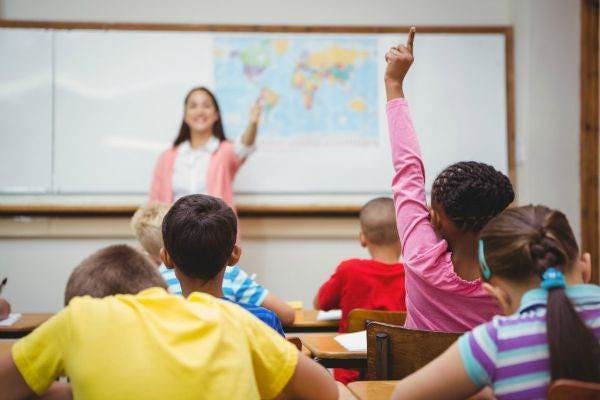 1) Flexible Seating
A seating chart on the first day of school is an easy, and often expected, thing to have. However, if you give students the opportunity to choose where they sit and who they sit with on the first day of school, you will learn quite a bit about how they learn and who they should (or should not) be sitting next to. This does not necessarily mean giving up complete seating control - there are a variety of activities you can do to assign random seating:
Use cards, stickers, sticks, or some other random seat assignment tool.
Have students sit according to favorite food, number of siblings, or favorite sports team.
Use a random seating generator like the Class Dojo Group Maker or the Happy Class app.
Do activities where they have to move around and not sit at desks or tables. Sit on the floor, in a circle, even outside!
Play musical chairs.
Ask your students to tell you who they want or don't want to sit by and why.
2) Conduct an Interest Survey
The interest survey is a standard tool used by many teachers, but with a little bit of modification you can turn this very informative activity into something a little deeper. Instead of giving your students a simple survey to fill out, try one of the following ideas:
Let your students audio or video record their answers - this is especially good for learners who are reluctant or unable to write.
Create a survey gallery. Put up posters with questions that you want students to answer and have them walk around and write their answers. Differentiate even further by giving different methods to respond. Have them use stickers, draw pictures, hole punch, or place sticky notes to give answers to questions.
Don't just ask about their interests, ask them how they want their classroom to be. Quiet or loud? Collaborative or independent?
Have your students interview each other using your survey questions.
3) Learn from their Interactions
You can learn a lot from watching how people interact. By creating opportunities for your students to interact with each other you will see how they win or lose, how they collaborate, and how they problem solve.
4) I Wish My Teacher Knew...
When you ask a child or teenager for honesty you will often get it. A question as simple as, "What do you want me to know about you?" gives your students the chance to tell you what they think is important. You can keep this simple. Write the sentence frame "I wish my teacher knew..." at the top of a page and let them start writing.
Of course, this can be differentiated further to support the needs of students who are challenged with writing. If you wish to offer even more flexibility, allow your students to audio or video record their response. Additionally, you can let English Language Learners write their responses in their native language if it helps them be more open - you can always find a way to translate their writing.
The strategies outlined above are just a few ways you can differentiate your teaching. All of our students are different. Some are shy and some are outgoing. Some love to read while others only open a book when forced. Some are visual learners whereas others are aural learners. The needs of our learners are vast, and there are a multitude of ways you can meet their needs. Modify your teaching and your classroom to meet the needs of your students before you even know what they are, and you will create a supportive learning environment for all learners.