New look, added accessibility and lots more in the latest EquatIO updates
(22nd October 2019) -

Louis Shanafelt, EquatIO Product Manager
The EquatIO team has been busily working away, building some awesome new updates to the product for you all to enjoy. In this blog, we'll show you what's been going on, but first, it's about time that we introduced the newest member of the team. It's me! Keep reading for my full introduction and all the latest updates. 
Before we dive into what's been happening with EquatIO, I'll introduce myself. My name is Louis Shanafelt and I have recently joined Texthelp to be the new Product Manager for EquatIO. I've spent the last 20 years of my career immersed in the education industry, working for the eighth largest district in the country at Orange County Public Schools in Orlando, Florida. I've taught Elementary Education (5th Grade), Computer Education, Secondary Mathematics, and was a school based Resource Teacher. I then went to work at the district office as a Digital Curriculum Resource Teacher and was promoted to an administrative level position as a Coordinator for Instructional Design. 
I'm beyond thrilled to join the Texthelp team and look forward to working with EquatIO teachers and students to help make our products innovative and accessible for all. Amongst my first duties here is to share with you some exciting new updates to EquatIO that we've recently released. So let's dive in...
User interface updates to EquatIO for Windows, Mac, mathspace and LMS 
Nearly all of our EquatIO products have just received a new user interface update. We've spent some time improving the look so you'll now see things like:

EquatIO Academy

This icon gives you the option of accessing "how to" articles and videos, explaining even more uses for EquatIO and providing new tips and tricks for your most loved features.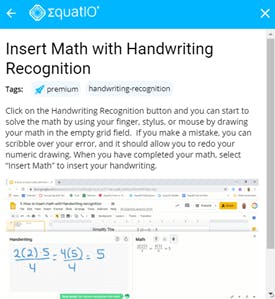 Insert Text

This icon has been added so you can easily input any written text or instructions in-line with your math content. It's great if you have text-specific items to insert into your math or want to deliver mathematical word problems.

Text Color

The text color palette allows students to provide visual cues to show what math has been performed from line to line as they solve their math problems. Teachers can also use it to show corrections when giving feedback on a quiz or assignment.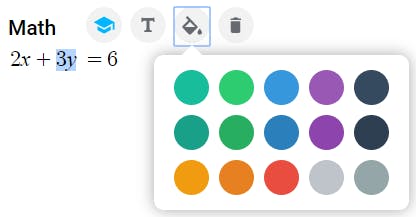 A new version of Desmos
Our friends at Desmos have released a new version (1.3) that includes the latest and greatest features that Desmos has to offer, including updates to statistical features. We have incorporated all of those updates into our Graph Input, which is powered by Desmos. Here's a complete list of all Desmos' latest updates.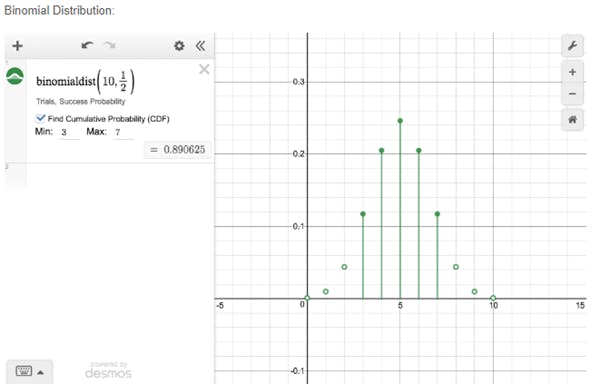 EquatIO is now even more accessible
Our latest accessibility updates will be particularly beneficial for people who use screen readers. We've listened to feedback from EquatIO users and added labels, buttons and pop-ups which will help EquatIO to be even more accessible.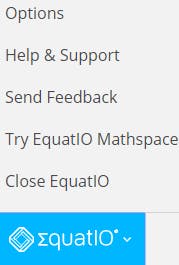 We love to hear your feedback. After all, we're making EquatIO for you! As the new Product Manager, I would love to hear from you on where you'd like to see the product go next. What would you love to see added? Or maybe there's something we could make even more awesome? If you have any suggestions, leave me a comment below.