Even more ways & places for digital math for Windows and O365 users
(28th October 2020) -

Louis Shanafelt, EquatIO Product Manager
We recently made some changes under the hood in the EquatIO Menu, so now there's even more ways and places users on Windows and O365 can use EquatIO to make math digital, including a new unified login, full toolbar support for Word Online and an integration with Microsoft Powerpoint. Read on to find out more...
What's New: Unified Login
We recently made some changes under the hood in the EquatIO Menu.  The EquatIO Menu is the large blue rectangle in the lower left corner of the product.  With the addition of 'Switch User' now being available to users, Microsoft customers can now click on the button and select 'Sign In With Microsoft' to begin using the Chrome extension.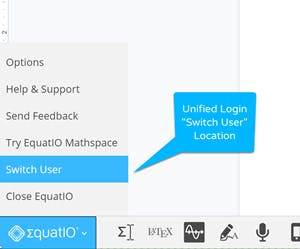 Many school districts around the world have adopted Chromebooks as their hardware of choice. In some cases, it has been the most inexpensive way to get devices into the hands of students. However, in the past, those Chromebook specific schools have opted for Office 365 as their software solution or method for collaboration. This has put a strain on them being able to use some Texthelp's finest products, including EquatIO. The Unified Login will help those navigating these user experiences I mentioned above. We are very excited to extend our product to the hands of these students who were previously unable to login for premium feature access.  
Full Toolbar Support For Word Online
Word and all Office 365 collaboration tools have recently made great strides to catch up to other tech companies in the market today. We recognized that users have many choices out there to promote student collaboration which is critical in a digital learning environment. I am excited to share with you that now when creating a new Word Online document, you can click on the EquatIO toolbar extension in Chrome and open a fully functioning EquatIO toolbar. You will be able to use the EquatIO toolbar in the same manner in which you used it with Microsoft Word which was locally installed on your device. Please note: In order to directly insert math you may need to first install the Office - Enable Copy and Paste Extension before using EquatIO.   
What Does That Small Circular Button In The Bottom Right Corner Do?
New to our EquatIO Chrome toolbar is a 'Copy Math As' button. This button has been in our EquatIO for Desktop platform for some time. By default, the button is grayed out, until the user has entered Math into the editor.  Once the math is recognized, you will be able to click on the button and 'Copy LaTex,' 'Copy MathML,' Copy The Spoken Text', 'Copy HTML,' 'Copy Image (SVG),' Copy Image (PNG),' 'Copy URL,' or Download the math image. You may use this button to freely copy and paste math wherever those input methods are allowable in other product. For example, if someone says, can I use EquatIO with a Kahoot. The answer is to find out, because really the question is, can Kahoot accept a copy and pasted image. If the answer is no, then you ask again, can it access an image that I have saved on my desktop? If that answer is yes, then EquatIO will easily integrate with other educational technology tools. 
Other Office 365 Applications To Use EquatIO
One of the first questions asked of me when we announced our recent integration with Word Online was, what about the rest of the core online applications offered into Office 365?  We would love to see our customer feedback and analytics before we decide to do any future work within the Office 365 suite, however we are allowing users to click on the Chrome extension and to retrieve the full toolbar experience in Excel Online, PowerPoint Online, & OneNote Online.  In order to be successful using EquatIO in these platforms, users will simply need to create their math as they typically would and then click the Copy Math As button.  Most users will find that 'Copy Image (PNG)' and then selecting 'CTRL V' to paste the math will provide the easiest navigation.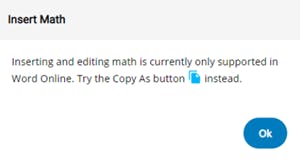 In Case You Haven't Heard
For our users who still prefer the desktop experience, last month we released an EquatIO Powerpoint integration. Powerpoint has long been considered one of the best presentation tools in the market. Powerpoint slides make it easier to chunk learning content for students preventing them from being so overwhelmed as they learn new content. Now, a user can open the desktop application, select the menu, then select 'Desktop Options.' The default insert method will always open up Word for Desktop. If you prefer to toggle it to Powerpoint, then simply follow the steps above.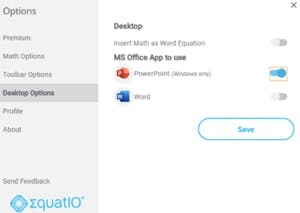 Digital Manipulatives & STEM Tools
One of the most noticeable features missing for me as an EquatIO user in the Desktop version versus the Chrome version of the two products was that Chrome extension users always had an additional button on their toolbar that Desktop users never have had.  Now Microsoft Word Online users can use the 'Insert Mathspace'  button and have students create and develop their understanding of the math that they are being tasked to make, and insert those digital manipulatives right back into their Word Document Online.  In case you haven't heard, Mathspace is EquatIO's webapp that gives users direct access to many different input methods, including a freehand drawing tool, shapes and smart shapes.  I encourage you to explore the Shapes drawer as that item alone contains approximately 150 items for EquatIO users to use and enjoy.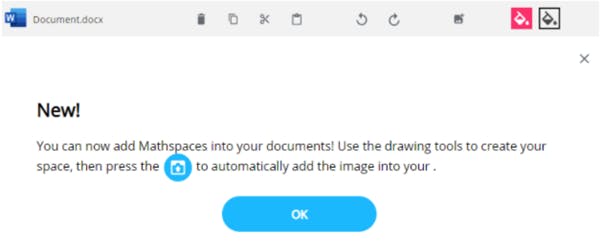 Last but not least
We've completed rounding out the STEM tools input method for all ways that EquatIO Microsoft users can access a Periodic Table, the Desmos Scientific Calculator, and Molecular Viewer.  All three STEM tools are available in the EquatIO Chrome Extension, the EquatIO Desktop Application For Windows, and throughout EquatIO mathspace.
I'm always keen to hear what our users think of all the latest work on EquatIO, so why not try out these latest updates and let me know in the comments below.