Free Speech to Text in Google Docs
(3rd March 2016) -

Jason Carroll, Global Products Manager
Ever wish you could speak your thoughts into a document instead of writing or typing them? Doing so may be easier than you think. Speech-to-text technology has been around for decades in one form or another. It was made popular by technology companies such as IBM, the Department of Defense, and medical offices.
In this post we'll take a look at how speech to text technology is used in classrooms, and how you can access it for free in Google Docs. 
In classroom settings, speech to text has been an often sought after, yet rarely used tool. This is partly due to the difficulty users had getting the software to understand their voice.  For example, being able to use the software was highly dependent on students being able to read large quantities of text for training purposes. Younger students, or students with reading disabilities often struggled with this. In addition, effective use required a decent microphone, quiet space, and sometimes sophisticated software being installed on the computer. Finding these 3 things together in a classroom setting did not happen often.
Fast forward to today where many schools have access to iPads, smartphones and other technologies that have excellent speech to text utilities built in. I've watched my 8 year old daughter ask Siri (Apple's personal assistant) a question on her iPad, then see the written version of her question displayed on the screen while Siri repeats it followed by a list of possible answers.
Recently Google introduced its own speech to text tool in Google Docs called Voice Typing. To access, simply open a Google Doc and click Tools - Voice Typing.


Using a Smartphone?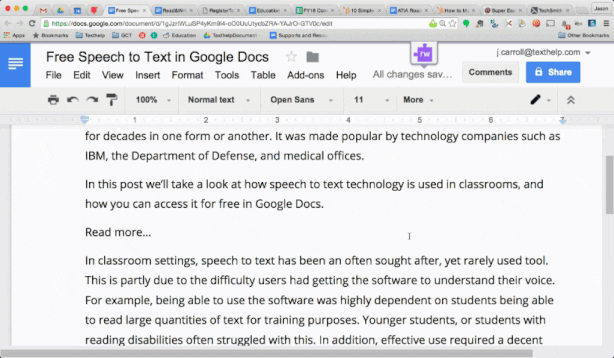 No problem, you're still covered. Either visit Google Drive through a web browser or the mobile app and sign in. Find your document and open it, then simply click the microphone button available on most mobile keyboards and begin speaking. Once finished your text will appear in the document.  
I have to admit that it is pretty cool to watch.  When demonstrating this to others I first open a Google Doc on my computer, then open the same doc on my phone.  After speaking a sentence it just magically appears in the document on my screen.
That's it, now you can use Voice Typing, or your built in microphone on your mobile device to start typing with your voice for free!