Get in the Zone: ZPD marks every student's sweet spot
(9th June 2020) -

Shelly Justice
You probably know that Fluency Tutor's leveled passages are great for assessing skills against grade-level expectations. But did you know you can also use those passages to rev up your students' fluency progress? The key to success: plenty of reading 'in the Zone'.
Psychologist Lev Vygotsky first wrote about the Zone of Proximal Development in the 1920's. Widely known today as the ZPD, it's become a foundational principle for performance in any area, from academics to arts, athletics and beyond. If you're an educator, perhaps you've already heard of it in relation to evidence-based reading practices or seen it reported on assessments.
We say a student is working within the Zone of Proximal Development when the difficulty of a task is beyond what the student can do independently - but within range of what they can do with help. Think of ZPD as the 'sweet spot' where learning occurs most effectively.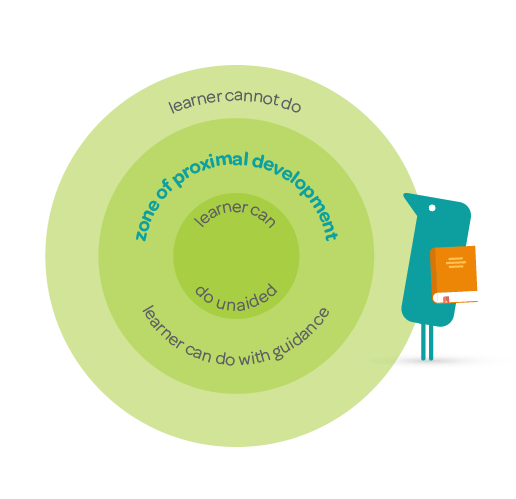 Since the ZPD is based on a student's skill level, it's specific to each individual. Finding, leveling and organizing passages for a class full of unique ZPDs could be challenging for a busy teacher. Fortunately, Fluency Tutor's collection of over 500 reading passages - all searchable by Lexile level (10-1150) - makes it easy to give each student regular fluency practice in their own personal Zone. 
Scaffolding is closely related to ZPD because students need extra support when working beyond their independent skill level. That support could come from a teacher, parent, or peer: but helpers aren't always available, and waiting for 1-to-1 support can create bottlenecks that slow progress.
Fluency Tutor includes built-in scaffolds to help every student succeed in their ZPD while they're working independently. Students can use Fluency Tutor's text-to-speech capability to hear the passage read aloud, and to read along. Our Dictionary, Picture Dictionary, and Translator features deliver vocabulary support. Listening to their own recordings helps students learn to self-monitor for their best performance. The handy ability to re-record passages opens the door to repeated reading and improved automaticity.
Ongoing feedback is essential for learning in the ZPD. That's where Fluency Tutor's easy-to-use scoring tools and rubrics make quick work of evaluating recordings and sharing results with students. Scores include accuracy, speed, pacing, smoothness, and expression as well as comprehension... so teachers can ensure students are ready before progressing to more difficult texts.
Fluency Tutor makes it simple for time-stretched teachers to provide regular fluency practice in every student's own sweet spot. Are you guiding fluency practice in the ZPD? If so, please fill us in below. We'd love to hear from you!  
Bonus: Check out our guide: 7 free resources to help create avid readers - for reading materials that are educational fun and engaging to help students read.