Get "under the hood" with the Snapverter dashboard
(24th March 2017) -

Kathleen Colburn, Product Manager
Snapverter™ is a powerful tool that allows teachers to create digital and accessible instructional materials. In previous blog posts, we've explored how Snapverter can be used with different types of files and documents, and on different types of devices. Today we'll cover an additional topic that can really take your Snapverter use to the next level - the Snapverter dashboard.
To access your Snapverter dashboard, just open up your Apps page in Chrome and click the Snapverter icon. This will take you right to your dashboard.
On your homepage is a snapshot of your Snapverter activity. You can see any documents that are currently being converted, your total conversion counts, and a history of recent conversions. Your history gives you a direct link to each document. Or if you have trouble converting a document, just check your history and you'll see a notification of any errors, such as if the file is too large or the file type is not supported. The dashboard is perfect for keeping track of all your Snapverter activities.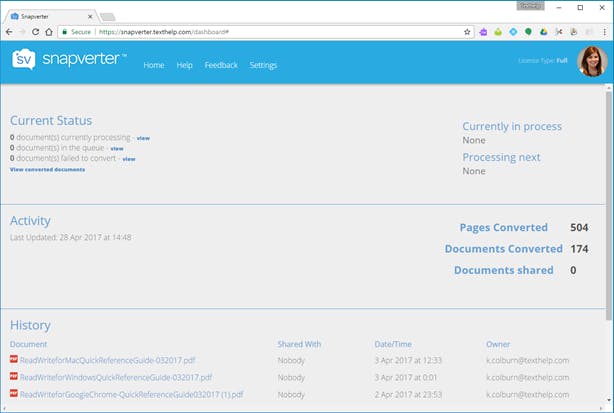 On the settings tab, there are a few useful settings to be familiar with:
Clear job history and Retry Conversions: If you hit a snag and your files aren't converting, try one of these settings to give Snapverter a refresh.
OCR Quality: Depending on the quality and formatting of your document, you may find that adjusting this setting produces better results. Just change the option here, and run your document through Snapverter again.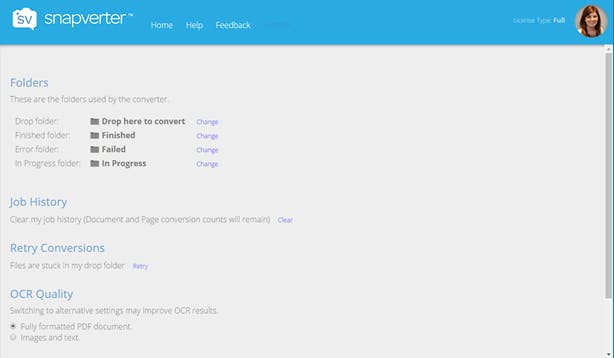 Using Snapverter in your Google Drive is easy and painless, but if you ever need or want to get "under the hood" then the Snapverter dashboard is the place to go.