Make Materials Accessible with Your Phone Using Snapverter
(19th May 2015) -

Kathleen Colburn
For those who aren't familiar, Snapverter™ is a Texthelp tool that makes it easy for teachers to turn their paper worksheets and inaccessible files into accessible classroom content.
Snapverter takes files like images, inaccessible PDFs and Daisy books and converts them to accessible PDFs and ePubs. The app integrates with Google Drive, so converted materials can be easily shared with students and colleagues.
One of the most popular (and creative) ways that we've seen Snapverter used is on a smartphone or other mobile device. You can snap a quick photo of a document or worksheet and use Snapverter to convert it into a PDF – turning your smartphone into an OCR scanner!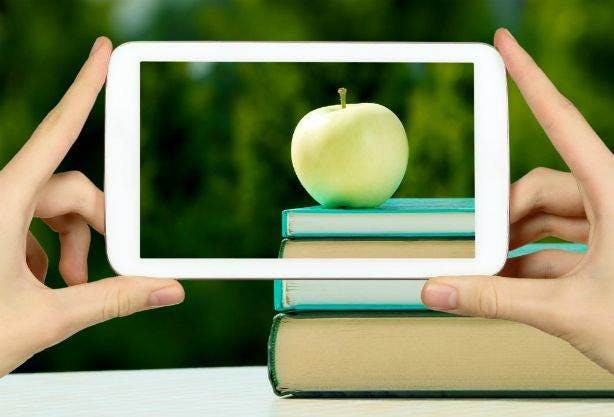 With the free Google Drive app for iOS or Android, you can access all of your files and folders in Google Drive right on your phone, which means you can access Snapverter too.
Below are 7 quick and easy steps to create accessible content from your phone using Snapverter. I've written these based on the iOS platform, but the steps are very similar on Android devices too:
1. Open the Google Drive app – Make sure you have installed the free Google Drive app on your device, from the App store or Play store.
2. Find your Snapverter folder – This should be right in the My Drive section of your Google Drive account.
​
3. Open the "Drop here to convert" folder – This will be inside the Snapverter folder, along with three other folders for the different stages of file conversion.
4. Touch the + button – This allows you to add new content to the selected folder, by either creating a new file or adding existing files that are already stored on your phone.
5. Choose "Use Camera" to take a photo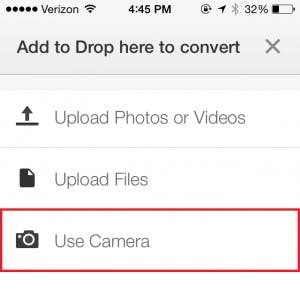 6. Snap a photo and select "Use Photo"
7. Open your "Finished" Snapverter folder – After a few minutes, you'll find your photo has been converted into a readable, accessible PDF.
It's that easy! You no longer need to rely on copy machines and scanners – anything you can take a photo of can be quickly transformed into readable, educational content. A paper worksheet, a passage from a novel, or a chapter from a textbook can be digitized in the palm of your hand, and made ready for students to read and work with.
Snapverter can also be easily used in conjunction with the Read&Write for Google Chrome extension to create accessible files where students can use text-to-speech, vocabulary supports, highlighters and more.
Anyone can try Snapverter> for free from the Chrome web store. Users get 10 scans free, followed by 1 additional scan per week.
Schools or districts already using Read&Write for Google Chrome can also purchase Snapverter to add on to their group or domain-wide deployments.
Try out Snapverter on your phone today and let us know what you think! If you've found creative ways to use Snapverter to make files accessible, be sure to share with us in the comments section below.