Motivating students to achieve like never before
(23rd January 2020) -

Mark Schwartz, WriQ Product Manager
Since the release of WriQ in 2016, we've had many awesome updates, but perhaps none as exciting as this one… Today, I'm really excited to announce the release of the student experience. It has the power to be revolutionary in motivating student-directed learning and writing achievement. 

In March of 2016, we released WriQ as a Google Docs Add-On. Since then we have upgraded the program to a Chrome extension, added tons of features (including most recently, custom rubrics!), and continued to develop WriQ as a game changer in writing assessment. I am really excited to announce our biggest update yet, the WriQ Student Experience, which I think is revolutionary in motivating student-directed writing achievement!
How we teach writing
An internet search on "How to teach writing" or "writing curriculum" or anything related to that will return tens of thousands of links. The world is not short of ideas on ways to teach and improve student writing. A survey into the research around writing curriculums shows that there is very little evidence that one program or method is more effective than another. However, researchers have been struck by one thing that seemed to improve student writing more than anything else ("Scientific Evidence on How to Teach Writing Is Slim") 
"Motivation seems to be the key," Slavin and his colleagues wrote. "...Perhaps more than any other subject, writing demands a supportive environment, in which students want to become better writers because they love the opportunity to express themselves, and to interact in writing with valued peers and teachers."
Our thought process
In developing the WriQ Student Experience, we focused on that very aspect of student writing: motivation. Using a combination of gamification, nudge theory, and research around writing bursts, we've developed the "WriQMeter," which allows students and teachers to measure and track writing fluency in real-time. Students that have added the WriQ extension will be able to track their best and total bursts for that day, while premium licensed students will be able to see their progress over time - weekly, monthly, and annually. The experience encourages students to spend more time writing, to write more words, and to write across different subject areas. Badges and other rewards offer external motivation while burst tracking shows students their progress over time, and gives them the internal motivation to keep improving.
So, what is writing fluency
Definitions of writing fluency vary from source to source. Mostly, they are qualitative descriptors of what fluency looks like. Essentially, what fluency measures is cognitive load - how much thinking is happening at different stages in the writing process.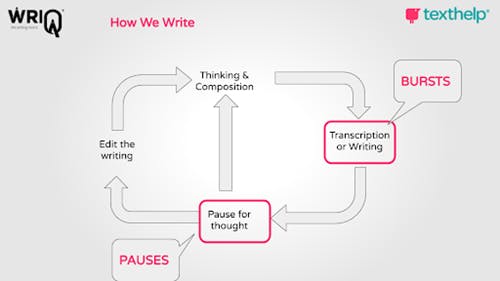 The number of words a student (or anyone) can type before pausing to think about and edit their work, is called a burst. By measuring bursts, we can get a more clear picture of student writing fluency. A pause of two seconds or more will reset the burst count.
One of the things that excites me the most about this experience is the ability for teachers to know the level of student writing ability in a faster, more objective way than ever before. By looking at the bursts for students across similar assignments (journal entries, narratives, etc.), teachers will have an accurate measure of writing fluency without grading any summative assessments. This will be particularly helpful for differentiating work for new and transfer students, as well as to help identify those who may need extra help - or those who may be gifted and talented. 
Bursts, however, are not the only thing that WriQ measures. Word clouds and keywords from the Academic Word List, provide insight into how much writing a student is doing in different subject areas, and which words students are using (or overusing!) the most.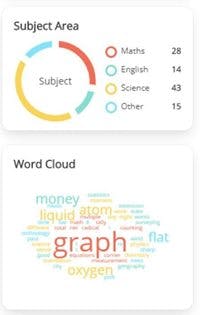 For more information on how to get started, and to see the experience in action, check out this video:
Over the next few months, we will be developing more ways to visualize and analyze student writing data. Be sure to check back here for those developments. In the meantime, try this with your classroom. Download WriQ from the Chrome store and/or request a pilot to experience all premium features for free.