My Journey from g(Math) to EquatIO (and yours)
(12th September 2017) -

John McGowan, Product Manager
g(Math) was my baby...Well, I actually had a baby about the same time as g(Math), but it still holds a very special place in my heart. My goal at the time, and still today, was to make digital math creation delightful, intuitive, and fun. g(Math) was the first step to reaching that goal.
For 3 years after creating g(Math), almost all I thought about was how I could improve it in order to increase student engagement and make it even easier for teachers to create digital math. Millions of teachers and students installed g(Math), making it one of the most popular Google Add-ons and making my dream a reality. Every day I woke up in awe that I had the ability to impact math in the classroom on such a wide scale.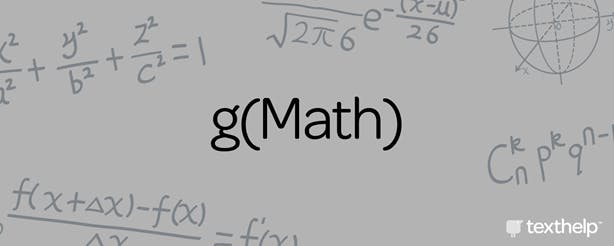 Knowing My Limits
Despite my efforts to continue improving g(Math), I recognized my limits.
I learned how to code in order to make g(Math). I poured over StackOverflow for hundreds of hours, leaned on some amazing educoders on Google+ like Andrew Stillman, Romain Vialard, Dave Abouav, and Eric Koleda, and finally gained my chops as a glorified copy and paste commando.
The g(Math) product that you see today pretty much maxed out all my skills, all that I could do - from a time, financial, and skill standpoint. I knew there was more to be done, but I also knew I couldn't get there on my own.
The Driving Force Behind My Partnership with Texthelp
I had come to a cross-roads. My lack of time meant that I couldn't sustain both teaching full-time and supporting g(Math). What had to give? So, I decided to stop teaching and focus full-time on development. However, that lead to the question of finance.
When considering monetization of g(Math), there were a handful of things to consider, which I did, very carefully. Obviously the ideal would be to find a way to keep g(Math) free. After all, I understand what it's like to spend money on my classroom and my students, and I didn't want teachers to have to sacrifice even more of their own finances for my product.
But, free is tricky. If an app is not making money directly from its users, there are only a handful of ways it can make money: ads or data.
After working 3+ years to create a better user experience for teachers and students when making math digital, the last thing I wanted to do was inundate g(Math) with annoying ads. Who wants that?! Not only are they annoying, but they could also be inappropriate for my diverse user base, particularly young students. I wasn't prepared to take that risk. No way!
And then, of course, there's selling data for monetization, which is an absolute no-go when it comes to user privacy - and especially student privacy. So, that was out of the question.
What I determined was that I had to find a reputable company to partner with that would help fund my product. Enter Texthelp.
What I love about Texthelp
Not only did Texthelp want to acquire g(Math) and hire me to keep developing it, but they also came to the table with three key promises: 1) they would keep the aspects of g(Math) that were popular, valuable and reliable; 2) those aspects would remain FREE forever; and 3) they would take my vision of what g(Math) could become and turn it into a reality.
With those three promises in mind, we developed EquatIO[®]. And I believe we have stayed true to those original promises.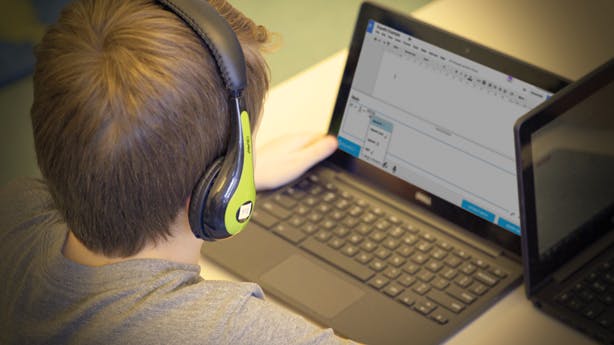 Let's talk about Forms for a second
A lot of people have been upset by the fact the integration with Google Forms is a paid feature of EquatIO. In their defense, we did say that we would keep popular g(Math) tools free forever (see above). But, if I can be real for a minute, g(Math) did not work well in Forms. I created it, and I'm the first one to admit it.
You couldn't insert math directly into the Form questions and students couldn't use g(Math) to insert their responses. It was clunky, unreliable and didn't offer that much value since the user experience was so poor. Again, I hated using it, and I created it!
That is why one of the first things we did when we designed EquatIO was to build a Forms integration that worked better for teachers and students.
And why make it cost money? That goes back to the above about free products. Free isn't sustainable or secure. We would love to give you EquatIO for free - and in fact, many key features of it are ! - but some form of payment for a product makes it legitimate. Because you're not just paying for the product itself. You're also paying for quality support, continued development, robust data protection, and so much more.
I should also add, that when you break it down, the price is quite reasonable. I know up front it looks like a big price tag. But, if you start buying groups of licenses, the price goes down SIGNFICANTLY. In fact, one district just purchased EquatIO for all their students for as little as $1 per user per year. And if you already have Read&Write, that cost can decrease even more!

Join the Journey
If you haven't yet, install EquatIO today and see how far we've come from g(Math). At first, it may be an adjustment. But I've found that the more I explore in EquatIO, the easier and more intuitive it becomes.
And just like with g(Math), we're committed to improving the product. So, please provide any and all feedback about EquatIO in our feedback form. Thanks!