Personalize Writing Assessments with WriQ's Custom Rubrics
(19th December 2019) -

Mark Schwartz, WriQ Product Manager
Most of my days are pretty cool - I get to talk about WriQ and show teachers how we can make their jobs a little easier. Some days are a little bit cooler than others though, and today is one of those days because I get to tell you that WriQ now allows you to add, create, and edit your own rubrics! We understand how important this feature is, and we're super excited to let you know that it's here!
What are Custom Rubrics?
WriQ has long had built-in rubrics for grades 1-12, in three categories: Narrative, Informative/Explanatory, and Opinion/Argument. Those aren't going anywhere and will continue to be a resource for all users. But now, if your district (or state or department etc.) has standard rubrics, you can build those directly in the WriQ dashboard to make your assessment process even easier and more streamlined than before.
How to Build Custom Rubrics
Check out this video, which takes you through the process of creating, adding, editing, and using a custom rubric in WriQ.

How to Use Custom Rubrics
Because custom rubrics are a Premium feature of WriQ, you will only be able to use them for assessments if the student you are reviewing has a Premium license of WriQ. If they do have Premium, you will now see the option to select one of your custom rubrics as you review their work in the WriQ Chrome Extension in Google Docs.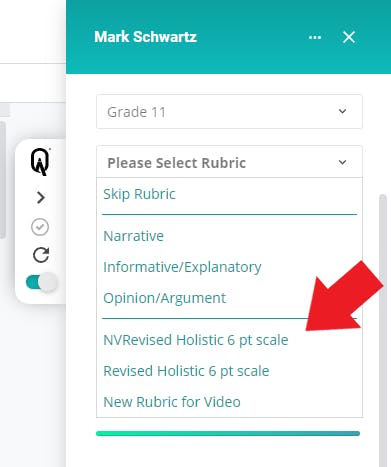 If your students don't have Premium WriQ yet, we still recommend checking out the Rubrics section of the WriQ dashboard to explore the new functionality. Or, better yet, you can sign up for a free pilot to explore the power of custom rubrics with your students today!
But wait, there's more!
So, all of this is a lot, I know. But there's more coming around the corner that I'm also really excited about. I can't say too much yet but I can say that this is the first step (albeit a big one) towards our goal of making WriQ the "fitness tracker" for writing…
Stay tuned for more on this in the coming weeks/beginning of the new year! Until then, my best wishes for a safe, happy, and restful holiday season.