International law firm, Pinsent Masons, are reaping the rewards of the Disability Confident scheme
(22nd August 2019) -

The Texthelp Team
In this short series of blogs, we've teamed up with some of our fellow Disability Confident organisations to explore the benefits of joining the Department of Work and Pensions' Disability Confident Scheme. In this first blog in the series we asked Kate Fergusson, Head of Responsible Business at International law firm Pinsent Masons, why they joined the scheme and what the rewards have been so far…

Here at Pinsent Masons, we are committed to creating an inclusive workplace where all of our people can be themselves and have the opportunity to reach their potential. We recognise that as an employer, we benefit from being part of wider external networks that enable us to share best practices, benchmark our work and continuously improve.
How has being Disability Confident made a difference to your business? Which changes do you feel have made the biggest impact for both your business and your team?
I think being part of the Disability Confident Scheme sends out a strong message both internally and externally that we are committed to creating a level playing field for all of our people, regardless of disability. We are incredibly proud of the work undertaken by our Disability and Wellbeing Network Group who are a great source of expertise in relation to the implementation and review of internal policies, procedures and training, and running awareness-raising events for our staff, to name a few.
What are your next steps with Disability Confident and your business?
One of the next things we have planned is that we're running our first Disability and Wellbeing Network Conference in the autumn. We'll use that event to seek staff feedback, which will help us formulate our plan of action for the next 12 months.  
Why would you recommend the Scheme to others?
I think that we all benefit from the opportunity to be part of a wider network of businesses committed to diversity and inclusion, to be able to benchmark what we are doing and identify how we can continue to improve in the future. I think there is often a danger within diversity and inclusion that we assume we already know what the issues are and how to solve them. Being part of initiatives like Disability Confident forces us to take a step back, evaluate what we are doing against recognised best practices, and ensure we are focussing on making meaningful changes.
Outside of the Disability Confident Scheme, Pinsent Masons has been highly recognised for making diversity and inclusion a strategic priority. What are some of the initiatives you have put in place to create a truly inclusive culture?
We are very proud of our achievements such as being named Stonewall's Employer of the Year 2019 and recognised as a Times Top 50 Employer for Women and a Working Families Top Ten Employer. However, we are not complacent and we recognise there is always more to do to improve. The engagement of our senior leadership is the one thing which I would always single out as being key to creating an inclusive culture. By way of example, we have Board and senior management sponsors for different diversity network groups and initiatives, which sends out a strong message to the business. It can't be just a tick box exercise. Those sponsors have to be actively engaged, attending and speaking at events internally and externally, and taking the time to speak to staff about the issues we face and how we can solve them.
In the space of diversity and inclusion, what do you see are the main challenges and opportunities going forward for business?
The legal sector has come a long way in the last 10 years but there is still a lot of work left to be done. I think many law firms would agree with us that we need to focus on race and ethnicity, particularly in relation to senior management and Board representation. In  2018, we launched a new piece of work to build upon what we have been doing around race and ethnicity. In 2019, one of our key priorities is to implement the recommendations of that work with the aim of creating a better balance of race and ethnicity within our workforce and a better workplace for all.
What has been your greatest learning or most exciting experience relating to diversity and inclusion?
I am genuinely excited to see how our employee network groups continue to grow and form such an important part of our firm and our commitment to diversity and inclusion. It is amazing to work with such passionate and committed people who are happy to share their stories, to be role models for others and help us to improve. 
If you would like to explore more, find out how you could become a Disability Confident Organisation, or hear from other Disability Confident organisations as part of our Disability Inclusion series.
-----------
About the interviewee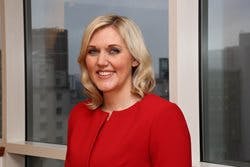 Kate Fergusson is Head of Responsible Business at international law firm, Pinsent Masons. Kate studied Law at the University of Sheffield and is a qualified solicitor with over 12 years' experience of working within the Responsible Business sector and an MA in Applied and Professional Ethics from the University of Leeds. 
Under Kate's leadership of Pinsent Masons' Responsible Business initiatives, the firm has been recognised as the 'Most Inclusive Employer' in the Stonewall Workplace Equality Index, a Times Top 50 Employers for Women, a Working Families Top 10 employer and Business in the Community's National Example of Excellence for Education. The firm has also achieved the EY National Equality Standard. 
Kate has been recognised as a Responsible Business Game Changer by Business in the Community and is a Fellow of the Institute of Corporate Responsibility and Sustainability.