Practice Expression with Fluency Tutor
(9th June 2020) -

Jason Carroll, Global Product Manager
The ability for students to express themselves accordingly based off what they are reading is an important skill that will help them transition to both higher education and the workplace.
Fluency Tutor for Google provides a great way to help students practice their expression when reading. Not only can students practice their reading over and over again, listening back to themselves as they go, but they can also share with their teacher to get feedback as well.
Both speaking and listening are critical skills for students of all ages. As the Common Core Standards state, students should be able to "Adapt speech to a variety of contexts and tasks, demonstrating command of formal English when indicated or appropriate."
Thankfully, doing this with Fluency Tutor for Google is easy! 
First find some great content on the web for students to practice reading with Fluency Tutor. This could be a speech from Abraham Lincoln, a poem by Emily Dickinson, or any other great historical or literary piece of work. 
A great example I found while creating this post is the Top 100 Speeches by American Rhetoric. Here you can listen to the speeches being read aloud as they were intended, and even view the transcripts!
Students can find their own content on the web, then use the Fluency Tutor Share extension to turn it into a Fluency Tutor passage, or teachers can create the passages themselves and share with students.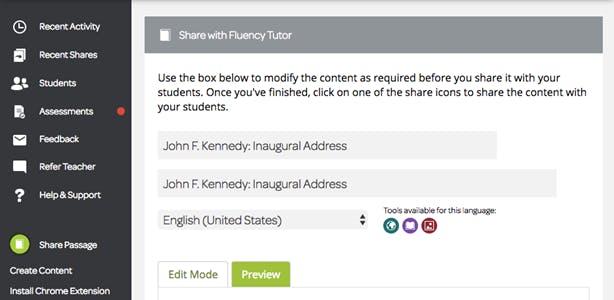 Students can practice reading the passages as many times as they like, and can play back their recordings to assess their own use of expression and intonation. Then when they're satisfied with their reading, they can send the recording right to their teacher.
Teachers can then give quick basic feedback, or more detailed feedback including an analysis of specific words read aloud, a rubric that includes expression, phrasing and more, and written comments for students to review.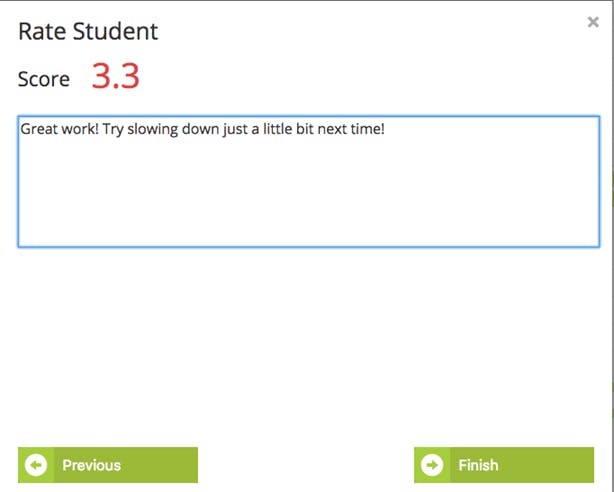 Students can then review their feedback right from their student dashboard at any time.
And that's all there is to it!
What resources do you use to have your students practice reading with expression? Let us know in the comments section below.