Share, Save, and Assign: EquatIO mathspace's collaboration features get an upgrade
(14th February 2020) -

Louis Shanafelt, EquatIO Product Manager
Today, I'm pleased to bring you news of some awesome new updates to EquatIO mathspace that will help to improve how both teachers and students share, save, and access assignments. Check out this blog for all the details!
Why reinvent the wheel? Share (and save) mathspaces with ease
Our team knows how important it is to be able to collaborate with others, which is why we've made it possible for EquatIO users to easily save shared mathspaces to their dashboards. Now, when a colleague (whether they are down the hall, across the school district, or around the world), creates a successful EquatIO mathspace, you don't have to reinvent the wheel. Simply save the shared mathspace into your dashboard and use it with your classes! 
Not only will this benefit teachers, but it will also impact STEM curriculum writers who create content for teachers throughout a district, math coaches who work directly with teachers at their school, and school-based administrators who want to send out a STEM problem of the day to students during the morning announcements. Check out the video to see sharing in action.
The student dashboard for EquatIO mathspace has arrived
When using EquatIO mathspace, students will now see a new tab in the sidebar called 'Submitted Assignments.'  Clicking on this tab gives them access to view all their previous assignments that they've submitted for scoring. This enables students to review past work that has been graded so they can show parents their work or use the assignments for review when studying for exams.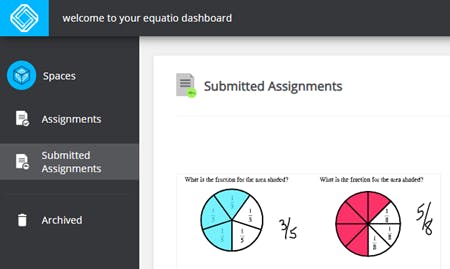 But that's not all…
Any platform or browser, same great experience
With the latest release, we've now brought EquatIO mathspace in-line with the rest of the EquatIO suite. This means that all your favorite new features - from the alignment options  to your favorites tab - are now available across all versions of EquatIO In case you missed it, this blog details what we've recently added. 
In addition to the palette updates,  we're also excited to tell you that the Chrome Browser is no longer your only option when using EquatIO mathspace.  That's right, we're now offering support for our digital math dashboard on Firefox and Safari!
Rotations, transformations and flipping
It's now easier to transform shapes within EquatIO mathspace too. Check out the GIF below to see how you can now flip and rotate shapes with the click of a button.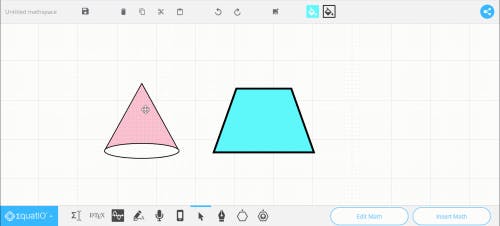 Even more shapes
We've now added even more shapes to EquatIO mathspace based on customer feedback, including:
 180° protractor
 Algebra tiles
 Venn diagrams
 T-Chart
 Updates to Canadian Coins
So why not open up EquatIO mathspace and check out the latest additions? Once you do, e sure to to share your feedback with us in the comments below. Nothing makes us happier than hearing from our customers!