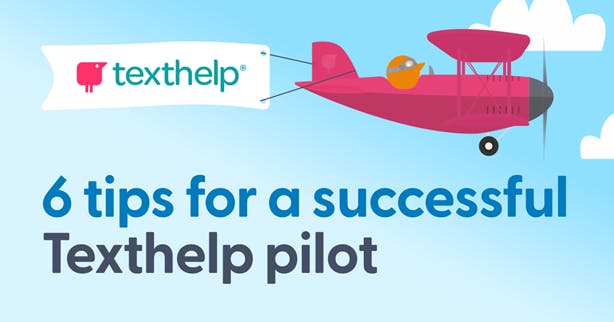 There is a major shift happening in today's education - one that is geared towards providing the right learning environment, at the right time, offering a virtual platform that grows and adapts along with each school. This new environment often requires new tools. The best way to test if a product is suitable for your staff, students and systems is to try a pilot project.
You can take an extended trial of Read&Write, EquatIO, WriQ or Fluency Tutor - or even a combination of all of them at the same time.
We talk to a lot of educators who are considering education technology for their students. The same questions come up a lot of the time, so we thought we would put together a blog post on how you can get the most out of a product pilot. We also have some real life examples to share with you, from school districts who have rolled out successful pilots in their areas.
1. Try before you buy.
We offer a free pilot of all our products at a district level, giving you access to all the premium features. That way you can see everything that our technology can do. But before you register for your pilot, let's take a moment to make sure you are geared up to get the most out of it.
2. Start small.
Many of the school districts we work with have a huge number of students across many school locations. Recently we were involved in a pilot project of our Read&Write literacy toolbar with Plymouth-Canton Community Schools, the 4th largest district in Michigan. There were 18,000 students spread across 14 elementary schools, 5 middle schools and 4 high schools.
Stacey Banks, Teacher and AT Consultant told us: "We began with a 90 day district pilot to spark use among SE, ELL, GE students, staff and teachers. A full license was purchased for 150 SE students, but as everyone was using the same tools there was no stigma involved". Access to the free version was maintained for everyone after the pilot to minimize stigma for Special Education students going forward".
When recruiting colleagues we recommend starting with the decision makers and Principals. Learning to use new tools takes a little time, so colleagues will need to be allowed time to learn and experiment. We have heaps of resources to help with this.
3. Collect data.
Choose the schools you are going to run the pilot with, you might like to have one pilot school and one control school to compare with. This is what our friends at Plymouth-Canton school district in Michigan did, we were so impressed with their pilot that we decided to share their experiences with others. Check out the Plymouth-Canton Efficacy Study
4. Make use of all the resources available.
Throughout the trial you will receive emails with tips, tools and resources, this will make sure you have everything you need to get the most out of your pilot. We want to help make sure everyone gets a chance to see what the tools can do! We even have letters for you to send to parents to explain how to use our products at home.
We have a massive library of resources and how-to videos, you can complete a certificate on Read&Write which would be great for your continued professional development. We'll be on hand too, with live demos and training for your team- if you need it.
5. Grow.
After the initial pilot our friends at Plymouth-Canton added another school for year two, the second school was chosen as it had the highest population of English Language Learners.
Throughout that year Stacey and her team applied the same methodology with Read&Write as they had with year one and "saw differences and growth that we felt could be attributed to Read&Write along with solid instructional practices and our great teachers." Since then the usage of Read&Write has continued to grow within the district.
"We've been pleased to see that our students are continuing to access these tools as they ease in the transition of remote learning and as a district we have found ourselves extremely fortunate to have a solution in place already that addresses accessibility for all of our students".
We look forward to seeing the project continue to go from strength to strength.
6. Learn from the experts.
Sandra Green, is the Assistive Technology Administrator from St Charles Unit Community School District, west of Chicago. The district is a long standing user of Read&Write and self confessed "very Googly district".
Sandra shares her experience and advice in this short case study.
"I cannot tell you what amazing things Read&Write has done for my students! I see their reading and writing develop on a daily basis due to this program".
If you would like to learn more about Read&Write and how it can help both you and your district, just fill out our Pilot Request Form and we'll be in touch.