Tackling teacher workloads: a post-discussion ponder on tech for teaching
(8th December 2020) -

Kat Howard, Senior Leader at The Duston School - Northamptonshire
We recently hosted a roundtable discussion on the issue of teacher workloads. Our panel included a range of leading educators from schools and organizations across the UK, who shared their own experiences and actionable advice on how to support teachers and senior leaders. As well as why they think EdTech, when used effectively, can help teachers, to help students. If you missed the live discussion, panelist Kat Howard, a Senior Leader at an all-through school in Northamptonshire, has shared her key takeaways and thoughts from the discussion. 
How do we tackle the teacher workload challenge?
I was delighted to be part of the Texthelp panel discussion, as we explored the tricky question faced by many schools as they work fast to navigate what being a teacher means in the current climate. We shared some staggering statistics on teacher stress, but equally pertinent, the impact of 2020 upon senior leaders is of growing concern. 
An NAHT survey recently revealed that approximately 70% of senior leaders report being less satisfied within their roles in school right now. And if we stop to consider the root cause of that stress, concerns about staff wellbeing could certainly be a factor here. This faced us with the question: where does this leave the EdTech paradoxical debate? 
Is technology the answer?
As teachers have worked rapidly to upskill themselves in what, for many, is an unfamiliar domain, are we using tech for right now? Or can we look beyond that to see that using tech can have a sustainable impact longer term? The panel shared the consensual view that simplicity is most effective, as teachers are keen to develop their use of tech alongside and underpinned by the pedagogical knowledge of their craft. 
Using forms for retrieval practice that can be shared across networks; voice-recorded feedback to uphold all-important relationships with pupils as they work from home; administrative systems that free up teacher time to focus on the teaching, were all mentioned as a way of using tech in a way that breathes both value and longevity for teachers. 
As we continue to take a blended approach to education in a COVID culture, our most effective approaches will be those that make marginal gains to workload reduction, giving time over to teachers to teach. 
My top 3 key takeaways
If I were to leave you with just three takeaways to keep front of mind from the discussion it would be: 
Let pedagogy guide tech choices: what do we need the tech to do?
Collaborate on the process as a team, or across networks.
Use online communities such as Twitter to develop your knowledge of what tech can do. 
Catch up on our full 'How do we tackle the teacher workload challenge?' discussion to explore these top takeaways in depth and get insights from the panel on what their most valued EdTech tools are and more.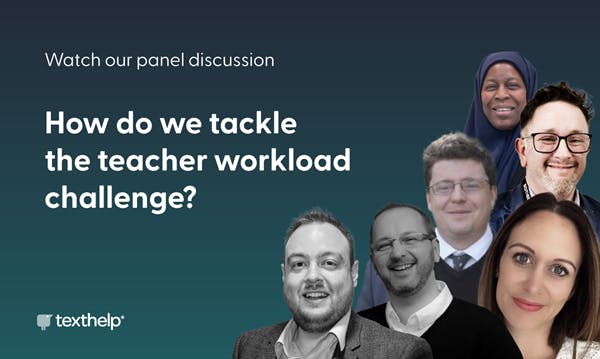 -------------------------------
Know that you've heard from our panel, we'd love to know what you think. Is technology the answer to the worsening teacher workload challenge? Leave us a comment below.