From paper to digital: teaching math and STEM online
(26th June 2020) -

Rachel Kruzel, Territory Sales Director, Texthelp
As administrators, instructional designers, department chairs, and faculty prepare for courses which are likely to be online sometime during the coming academic year, courses with math and STEM based content are areas that have proved to be challenging. EquatIO is an innovative EdTech solution that can help ensure continuity & quality of math and STEM based courses as they move from in-person to online formats.
When 2020 began, no one could have predicted that in the blink of an eye, higher education and the way we teach would be flipped on its head. Faculty, staff, and administrators have had to move an entire semester worth of courses online, as well as plan for what unknowns are to come. 
Educators are looking back, analyzing what went well, while determining what improved methods of teaching are needed in an online environment. Many students have expressed frustration that the online courses of the last three months are not the same quality as in-person classes. As a result, more than 25 colleges and universities are dealing with students who have filed lawsuits. Students are demanding tuition refunds and are expressing that the quality education they received in the classroom be transferred online. 
Math and STEM based courses rely on interaction, hands-on problem solving, group work, and the ability to draw and illustrate concepts. Passive lectures, additional amounts of reading, independent research projects, and writing assignments are not effective teaching methods for this type of content. Texthelp has been busy over the last few years building and creating a robust digital math and STEM creation tool, which aligns with the move to online learning. Through a variety of tools, platforms, and options, faculty have the ability to effectively teach no matter where they are.

Supporting subjects across the curriculum
When we think of math and STEM, we naturally think of subjects like algebra, calculus, chemistry, and physics. However, the number of classes at a college or university that employ some type of math/STEM based content casts a wider net. One of the often overlooked areas are courses within the field of business and finance. 
EquatIO supports users as they learn content in the following subject areas:
Math - basic through advanced
Science such as Chemistry and Physics
Engineering
Computer Science & Technology
Business such as Accounting, Finance, and Operation and Supply Chain
Economics
EquatIO provides users with a toolbar in a variety of online locations and platforms to create equations, graphs, assignments and assessments. Through tools such as the Equation Editor, LaTex entry, Prediction, Dictation, and Handwriting Recognition, users can choose the method of entry that works best for them; a true Universal Design for Learning tool. 
One of the key aspects of EquatIO is its continual development. Recently, new features were added to enhance the ability to teach complex science and math concepts digitally. For years, users have had access to the Desmos Graph Editor and in late May, a Desmos Scientific Calculator integration also went live to users. 
Countless STEM equations and formulas are already available in EquatIO, but our team are constantly adding more that support these additional subject areas, with many of these additions driven by requests from our users. New additions supporting Chemistry include a digital Periodic Table and the ability to add Isotope Notation/Nuclear Notation. The Periodic Table no longer has to be a static print out; instead it can be an interactive tool with information about each of the elements. 

LMS and platform integrations
Institutes of higher education fall into one of two camps: Microsoft or Google as the productivity and collaboration platform central to their daily work. The good news is EquatIO works within both. Tools such as Google Docs, Sheets, Slides & Forms and Microsoft Word provide avenues for integration with EquatIO. Future developments are in the works for an additional Microsoft suite tool. 
With the shift of in-person classes to Learning Management Systems, for many campuses, new EdTech tools need to have LMS integration. For over a year, EquatIO has supported users within Canvas, and in March 2020 Texthelp also added integration with Brightspace D2L. Meaning that much of the same functionality that is available within the toolbar that integrates with Google or Microsoft now carries into both of these LMSs. Through an LTI integration, users can easily create assignments and assessments in which students can answer digitally and submit to faculty.
Moving to digital math needn't be daunting. With EquatIO students can continue to use all the programs they're familiar with as EquatIO has many seamless integrations. Teachers can continue to use the Learning Management systems they're used to as well, such as Schoology, Brightspace D2L, Canvas and Infinite Campus.


Showcase lecture content with mathspace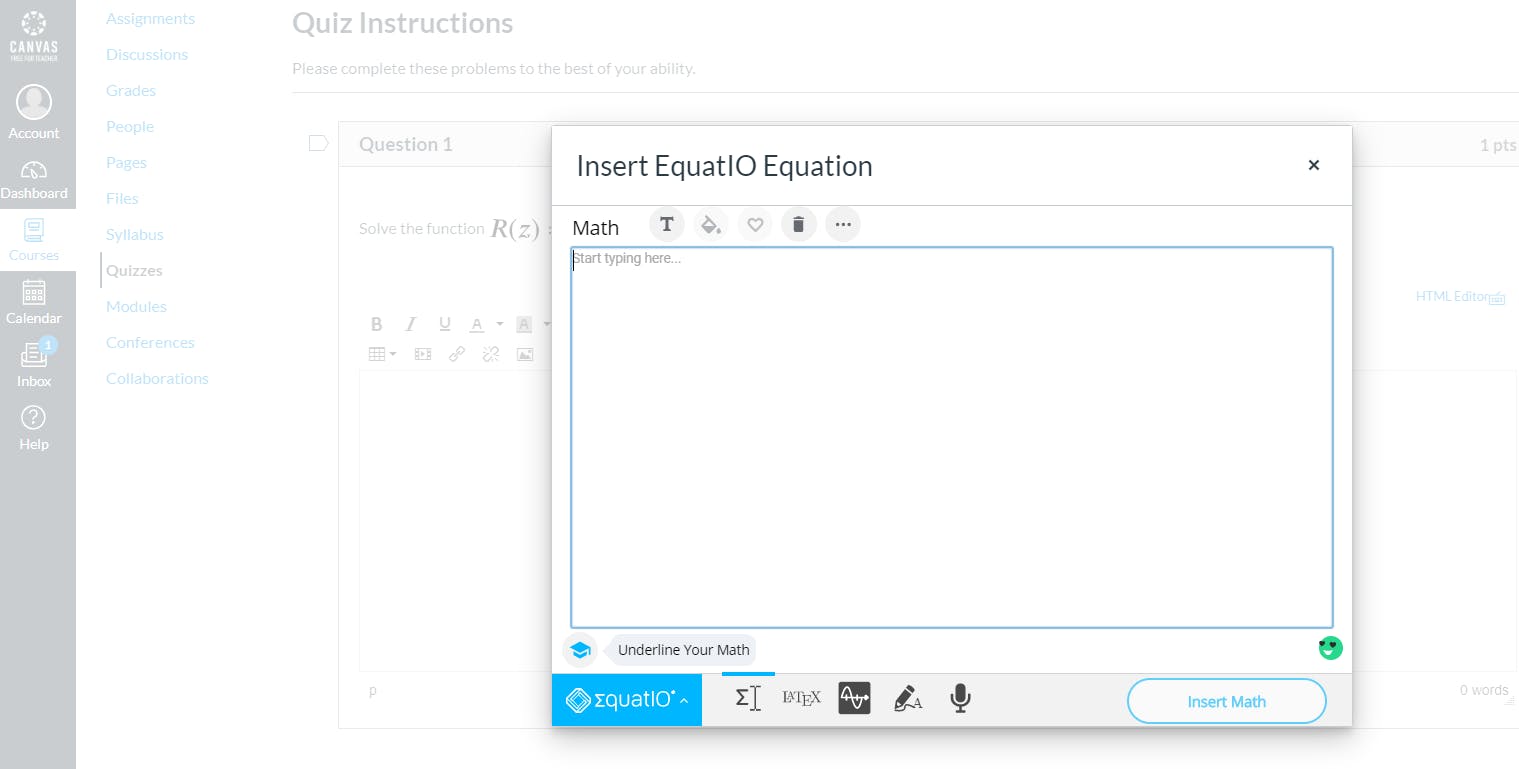 While outside of a school's LMS, EquatIO mathspace gives faculty the opportunity to teach, create, and assess through an online whiteboard-type space full of flexibility and a variety of additional tools. Faculty using mathspace can capitalize on the open space to create diagrams, problem sets, and as a method to showcase lecture content. And with the new multipage feature, they can create multiple examples and mathspace pages in one master mathspace, much like a PowerPoint or Google Slides, as a method to present a topic or examples during lecture. 
When using the multipage feature in mathspace, faculty can also create exams and share them; allowing students to have tools to digitally solve math problems and show their work much as if they were working out a problem on paper. Faculty can see what the student has done to get to the solution; impossible before with linear online math content. For real-life application assignments or scenario based problems, faculty have a way to ensure this type of essential pedagogy is sustained. Watch our video below to discover how to easily create lecture content using the mathspace multipage experience. 

Making digital math accessible
With the move to online learning, accessibility is key to ensure equity for all students. EquatIO provides methods to support equal access learning environments, as well as tools to help those responsible for creating accessible content. With EquatIO, students struggling to write STEM content have the ability to independently type, handwrite, or dictate equations. 
For many, this eliminates the need for a peer proctor, which has been a struggle for some Disability/Accessibility Resource Offices during the move to online. Ensuring the content created by EquatIO is accessible has been central during the product's development. Each EquatIO equation has the alternative text automatically added to the document or the Learning Management System. It also provides users the flexibility to insert the equation in other forms such as MathML and LaTeX. 
For Disability/Accessibility Resource staff or document remediators on campus in charge of creating accessible documents and content, EquatIO has built in tools to ease the burden of both time and expertise. Through the use of the Screenshot tool, remediators can quickly grab equations from PDFs of books, assignments, exams, websites, or other documents, and in seconds, create accessible equations either as EquatIO images or one of the alternative equation formats. 
Best estimates find this tool can cut down on the workload of creating accessible STEM content by two-thirds. In a time of budget and personnel cuts, this tool can be a key solution to help institutions. Texthelp is developing the ability for an entire page of STEM content to be Optical Character Recognized and converted into a document full of EquatIO equations. Watch our video below to find out more:
------------------
------------------------------------
It's clear that digital technologies are creating new possibilities for higher education and in recent months we've seen blended learning act as the catalyst to shift teaching & learning online to digital platforms. But how is this impacting faculties who teach math within their courses, as they navigate blended learning now and in the future? 
Join us for a roundtable discussion as we explore this topic in depth with a panel of higher ed industry experts - click below for more details.