---------------------------------------------------
To start using Read&Write for Google Chrome in Irish, you can switch over your speech settings with the following quick steps:
Open the Read&Write for Google Chrome toolbar in Google Docs or on the web
Click more, then the Options gear
Under the Speech tab, change your voice to 'Gaeilge Peige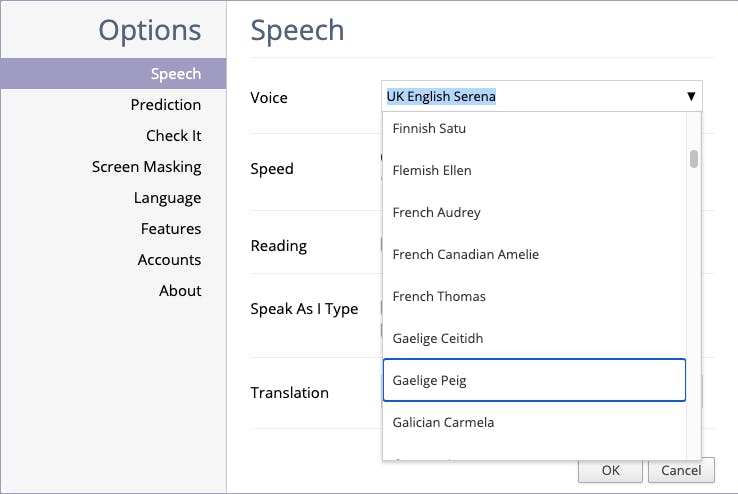 Now you'll be able to use Select to Speak (Play), Click to speak, Hover Speak and Audio Maker to listen to any Irish text read aloud.
Download this support article for step by step instructions on how to access the Irish voice.
Supporting Irish-medium Education
There are currently 40 Irish-medium schools in Northern Ireland. The representative body for Irish-medium Education is Comhairle na Gaelscolaíchta, it's their role to promote Irish-medium Education in the community. We spoke to them about what this new addition to Read&Write means. Ciarán Mac Giolla Bhéin, CEO, Comhairle na Gaelscolaíochta, said:
"Comhairle na Gaelscolaíochta recognises the value of the technology available from Texthelp in improving accessibility to learning for all pupils and providing opportunities for enriched learning experiences across the curriculum. We are delighted, therefore, that Read&Write is now available in Irish and we wish to congratulate all those involved in ensuring the Irish-medium sector can avail of this invaluable resource! Texthelp have demonstrated that resources like these can be delivered through Irish and we would encourage other providers to follow their lead!"
There are now more than 7,000 students in Irish-medium schools in the North for the first time ever, with this number expected to rise sharply. So, we asked Dessie Tennyson, Head of Irish Medium Stream and Irish at St. Joseph's Grammar School, what impact this update will have on Irish-medium education (IME) students:
"This new update will be of great assistance to all IME students, not only those that have additional learning needs. I love the fact that you were able to get a good clear voice in Ulster Irish! Most students have spent almost 7 months learning remotely and due to the nature of immersive education, I believe that our IME sector has been badly affected. Despite the immense efforts of our IME teachers, it is impossible to provide immersive education while at home. This provision will make a big difference in the years ahead with homework assistance, pupils will be able to listen to the words while they are reading them."
Dessie also pointed out the addition of the Irish voice will not only benefit IME students, but it will also help pupils learning Irish too.  
"I believe that this update will provide great opportunities outside of Irish Medium Education. For anyone learning the language, especially at an advanced level, this programme/tool will assist them to read and hear at the same time."
Schools in Northern Ireland have access to our literacy support software, Read&Write through the C2K network. To help students across the country read, write and study with ease and confidence. Find out more.
-----------------------------------------------------------------------------------------------------------------------------------------------