Supporting dyslexic staff and creating a more inclusive workplace
For Staffordshire FRS, accommodating staff who need extra support is a priority
Their Read&Write site license offers immediate support to those that need it, without having to go through a lengthy assessment process. It's helping their workforce to be more productive and efficient. And creating a place where employees can fulfil their potential.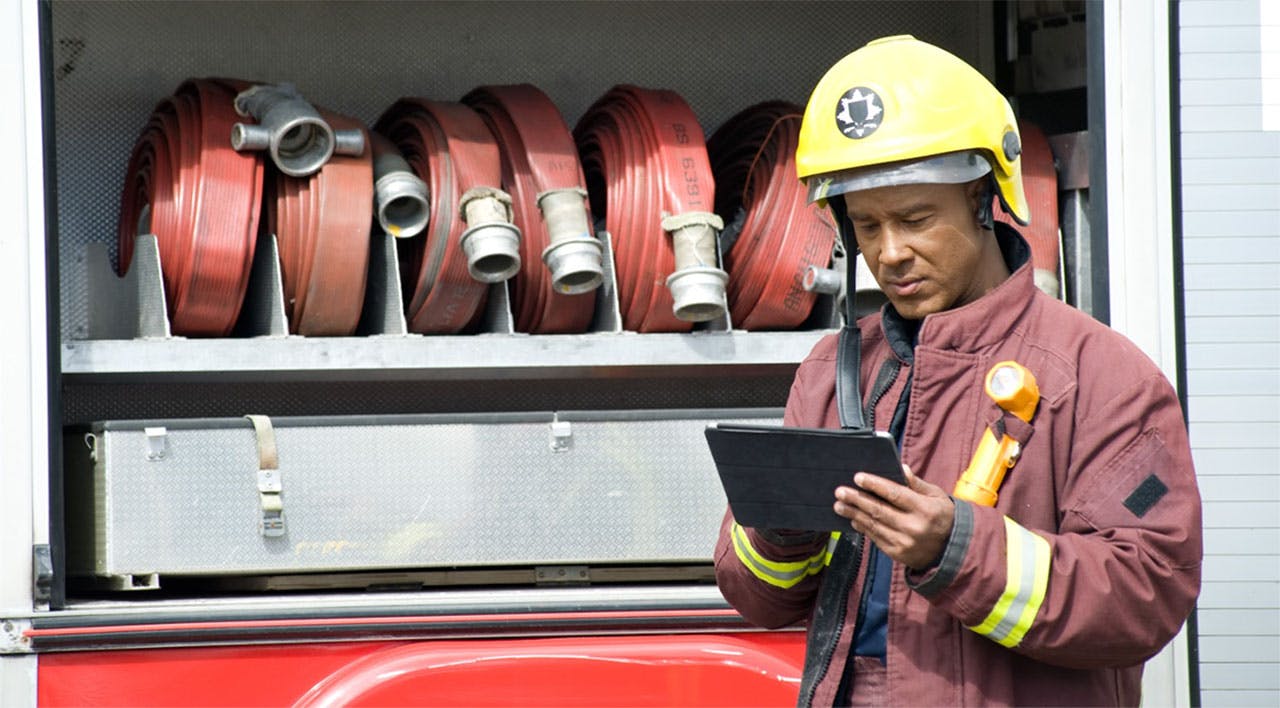 Outcomes
Read&Write is helping Staffordshire FRS to "break down barriers"
It's supporting their entire workforce to be more productive and efficient
And, having a Read&Write site license means immediate support to those that need it
Background
Staffordshire FRS provides fire and rescue services to the county of Staffordshire and Stoke on Trent, employing approximately 1,050 people across 33 community fire stations across the region. As one of the leading fire services in the UK, Staffordshire FRS is helping make the county a safer place to work, live and visit. 

Staffordshire and Stoke on Trent has a diverse community, and this is truly reflected in the Fire and Rescue Service's workforce. Accommodating staff who need extra support, due to issues such as dyslexia or language difficulties, is a priority of the organization.
The challenge
According to UK statistics, approximately one in ten adults are affected by dyslexia. Staffordshire FRS recognized the need within its own workforce to provide practical solutions to support dyslexic staff. 

Accordingly, an organization-wide dyslexia policy was developed to help managers gain an understanding of the issues. Whilst this was undoubtedly a step in the right direction, there was still a recognized need to provide practical solutions to help dyslexic staff themselves.

So the Service engaged the help of a local dyslexia organization to provide a dyslexia screening service for staff, and complemented this with information and awareness seminars. In the process, the number of staff coming forward seeking dyslexia assistance increased dramatically so the Service decided it was time for a more strategic approach to tackle the issue. 
"Having a Read&Write site license means we can offer immediate support to the people that need it, without having to go through a lengthy assessment process. It's an all round better package for the Service which fits individual needs of our staff, equipping them to be more productive and efficient. There's a lot less rework, and our dyslexic staff have more confidence both in themselves, personally, and from their co-workers and managers. I believe by addressing dyslexia head on, we are breaking down barriers and dispelling the myths that often surround the disability. Our dyslexic staff can now achieve their full potential, which means morale is higher - which ultimately benefits the Service."
The solution
Rather than providing support to dyslexic staff on an individual basis, they decided to adopt a more broadbrush approach.

Previously dyslexic members of staff were assessed on an individual basis and appropriate measures, such as assistive technology, were put in place accordingly. However this process was a lengthy one, which could mean staff waiting many frustrating weeks before help was made available. 

So the decision was taken in 2015 to purchase a site license for literacy support software Read&Write, to be installed on all computer equipment within Staffordshire FRS community buildings and fire stations across the county.

The availability of Read&Write on all equipment (PCs, laptops, tablets) means that dyslexic staff are now fully supported in daily aspects of their work such as reading and writing emails, reports and policy documents. Not everyone is comfortable disclosing their dyslexia and for those choosing to cope with their disability below the radar, support is available without having to ask for it. 
Read&Write is proving to be a handy tool for other staff too, helping to increase productivity levels and reduce errors in written documentation. The translation support it provides is proving useful for staff who come from outside the UK and need a bit of language assistance. Staffordshire FRS is already culturally diverse, but is hoping that Read&Write could help encourage more people to apply for jobs - regardless of ability or disability, language or culture - knowing there's support in place.

And it's not just Staffordshire FRS who are benefiting. The Service's Fire Stations have community rooms available free of charge to the general public. Read&Write is available on the main computer server, meaning members of the public using computers in the community rooms also have access to the software.

Discover Read&Write. Or arrange a free trial.
Supports people who think, learn and work differently. Helps neurodiverse workforces to thrive.