Retaining neurodivergent talent - How to create an environment that encourages success
In a series of 2 on demand sessions and a downloadable guide, discover how to create an environment where neurodivergent employees can thrive. Hear from neurodivergent employees as they share their experiences of neurodiversity and what empowers them to succeed. Gain insights from brands leading the way.
An on demand series exploring how to retain neurodivergent talent with an inclusive work environment
Register to gain access to both sessions and a guide to understanding neurodiversity. By registering, you'll also receive a bonus special - a recorded session on understanding dyslexia, with Dyslexic TV presenter Jay Blades MBE.
What's this series about?
1 in 5 of people have a neurodiversity such as Dyslexia, Autism and ADHD. These individuals think in ways that are truly unique, and bring talents to the workplace that are simply unforgettable. They thrive and are more likely to succeed in a workplace where they can understand more and work in their own way. By supporting neurodivergent employees to achieve in their own way, we create a space where innovation and creativity can flourish.
In this series, explore what you can do to create a working environment that enables and encourages employees to understand, communicate and work in the way that suits them best.
You'll receive 2 sessions and 1 guide including:
Session 1: Empowering neurodivergent superheroes & eliminating kryptonite at work
Session 2: Improving the employee experience: lessons from leading brands
Guide: Unlocking neurodiversity in the workplace

You'll also receive a bonus special where we take a look at dyslexia through the eyes of Dyslexic TV presenter Jay Blades MBE.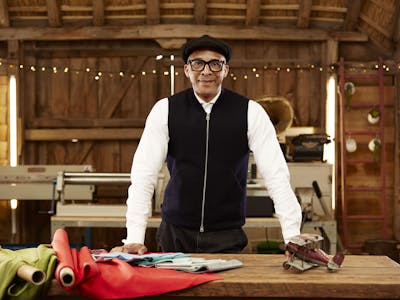 This series has been created in partnership with
Series details & speaker information
Session 1: Empowering neurodivergent superheroes & eliminating kryptonite at work
Neurodivergent individuals have unique ways of thinking, processing, learning and behaving. That means they bring to the workplace talents that are simply unforgettable. From out-of-the-box thinking to creative solutions, their strengths can improve the success of any project or task. Despite this, just 1 in 10 organisations include neurodiversity in their people management practices.
In this session, explore what you can do to help your neurodivergent colleagues thrive. Our panel share advice based on their lived experiences and professional insights. They'll also highlight common challenges with the modern workplace that can impact career success, and offer tips to overcome them.
Hear from:
Aidan Healy, CEO, Lexxic. Aidan is on a mission to create a working world where all minds belong. He has fifteen years of experience in people development roles holding qualifications in psychology, leadership development and coaching. Lexxic are a specialist consultancy who are leaders in the field of neurodiversity in the workplace. With a thirteen-year track record, they partner with organisations to empower neurodiverse talent and help them become neurodiversity smart.

Jess Gosling, Senior Innovation Policy Advisor, UK Government & Co-Chair, UK Civil Service Neurodiversity Network (CSNN). Jess is a UK Civil Servant, an Award-Winning Community Founder, Public Speaker, Academic & Diversity, Equality & Inclusion Champion. Named 27th in the Top 100 Women Future Leaders 2021 and Most Influential Women in Tech UK 2021, Jess is a serial multi-hyphenate with a passion for all things interdisciplinary and intersectional. Being neurodiverse by three, one of her core drivers is to challenge the narrative of you can't be what you can't see.

Ruth-Ellen Danquah, Chief Innovation Officer, Exceptional Individuals. Ruth-Ellen Danquah's work with some of the biggest names in business lends itself to memorable psychologically safe spaces full of practical takeaways which have improved neurodivergent inclusion practices at companies like the Financial Times, Endemol Shine & Lush. Ruth-Ellen works as Chief Innovation Officer for Exceptional Individuals helping to deliver neuro-inclusive leadership coaching, and training, helping to embed innovative practices so more people can belong in the workplace.

Theo Smith, Founder, Author & Neurodiversity Evangelist, Neurodiversity at Work. Theo is a leading Neurodiversity advocate, founder of Neurodiversity at Work Ltd, Neurodiversity Evangelist at Dynamis Group, author of 'Neurodiversity at Work: Drive Innovation, Performance and Productivity with a Neurodiverse Workforce' and podcast host of Neurodiversity – Eliminating Kryptonite & Enabling Superheroes! Once upon a time Theo was a professional Actor, then a leading expert in the field of recruitment. Theo now uses his thespian skills to entertain his daughter and son and to inspire organisations and the world to the idea that neurodiversity is the future of work and beyond.
Session 2: Improving the employee experience: lessons from leading brands
43% of employees with disabilities or neurodiverse conditions do not feel comfortable to approach their employer to ask for change. Fear of stigma is a leading cause. Openly embracing differences, and supporting different ways of thinking and doing greatly improves the employee experience.
In this session, explore programmes and initiatives proven to make a difference. Take away actionable inclusion strategies that'll help you make a difference. You'll gain insights from Leila McKenzie-Delis, CEO & Founder of DIAL Global & The McKenzie-Delis Foundation, who will share examples from some well known brands leading the way.
Leila is a passionate thought leader with multiple business and charitable interests. In 2019, Leila founded DIAL Global, a global community for 'Diverse Inclusive Aspirational Leaders'. DIAL Global's purpose is to foster a more open, diverse and inclusive society by helping organisations to think differently about their working culture, recruitment, attitudes and understanding of diversity in all its forms. The community includes a podcast series 'Diverse Inclusive Leaders' and YouTube channel, featuring exclusive talks with the most inspirational and accomplished thought leaders of today.
Leila has also created the McKenzie-Delis Foundation – a charity dedicated to furthering the research and insight into diversity, inclusion and belonging. In 2020, they launched the McKenzie-Delis Review - a ground-breaking report on diversity and inclusion in the UK workplace.
Guide: Unlocking neurodiversity in the workplace
This guide is designed to support leaders and business professionals who are curious about neurodiversity. In the guide, uncover the power of neurodiverse teams. Gain advice to help you support neurodivergent employees. Hear how other businesses are supporting neurodivergent employees, such as Network Rail, Foreign and Commonwealth Office, and Sainsbury's.
Bonus special: A highlight on Dyslexia, with Jay Blades MBE
At least 1 in 10 of us has Dyslexia, yet many still experience a lack of understanding and support for Dyslexia in the world of work. 
In this session, take a look at Dyslexia through the eyes of Jay Blades MBE, a UK TV presenter with Dyslexia. In his latest BBC documentary 'Learning to read at 51', Jay shares his journey as one of 8 million adults in the UK who has difficulty reading. In this Q&A, we chat with Jay about some of the challenges he has faced. We also be uncover the strengths of Dyslexic thinking that have led to his successful career.
Hear from:
Jay Blades MBE, UK TV presenter with Dyslexia. Jay Blades is the nation's favourite furniture up-cycler who inspires individuals, companies and charities to transform old furniture into works of contemporary design. Starting in 2017, Jay has hosted BBC1's primetime heart-warming show The Repair Shop. The show has run for seven series, following the stories around a workshop filled with expert craftspeople bringing treasured pieces of family history and the memories they hold back to life.

In 2021, Jay starred in BBC2's Jay's Yorkshire Workshop. Jay opened the doors to his brand new workshop in Bradford and in each episode, members of the public would nominate local heroes from across Yorkshire to receive a handmade, bespoke piece of furniture to acknowledge the work they do for their community. In 2016, Jay appeared on Gok Wan's Gok's Fill Your House for Free, following on from his first appearance on TV with Kirstie Allsopp. In addition to presenting, Jay spends a large amount of time working on furniture projects for commercial and individual clients, running workshops and motivating disadvantaged people in the community.

Martin McKay, Founder & CEO, Texthelp. Martin founded Texthelp in 1996 to help people with communication difficulties. What started as a company focused on people with profound Speech and Dexterity Disabilities has become a world leading Assistive Technology company creating smart, inclusive software that helps people read, write, express their thoughts and share information more accurately & fluently – across all stages of life. His goal is to make sure that by 2030 Texthelp will have advanced the literacy and understanding of one billion people.

Martin has spent his work life developing technology for people with disabilities. In the past, he has served on the Assistive Technology Industry Association Board as well as the NIMAS board for the USA Office of Special Education Programs. In 2017, he received the Presidential Award in recognition of lifetime contribution to dyslexia and literacy from the International Dyslexia Association. He is currently serving in an advisory capacity on the Universal Design for Learning council.