Don't Hand Out That Worksheet: How Tech Can Bring Math to Life
(30th November 2017) -

Andrea Ferrero, Co-Founder, Pockets Change
This week we have another guest blog post from Andrea Ferrero the co-founder of Pockets Change.
If you were in the classroom in the 90's as computers began making their way into the curriculum, you might have fond memories of the pioneer simulation "Oregon Trail" or the geography romp "Carmen Sandiego". In more recent years, you may have forayed into Minecraft adventures.
For me, things got exciting when my 6th grade teacher and art teacher teamed up to have us create tessellations in Paint. It was incredibly fun, but most of my time on the computer that day was not spent deeply exploring geometry (my 6th grade teachers goal). Nor was my focus on color schemes (my art teacher's goal).
Classroom moments like these raise the concern that digital tools are more about fun than fundamentals. Looking to make classroom time on tech effective - too often we end up with simplified activities that are not much more than a digital version of worksheets. However, if we set the read and respond tasks aside, technology offers an incredible opportunity to collaborate and creatively pursue mathematics.
Blended Learning Models and Technology Integration
Blended Learning and Technology Integration from Jen Jonson on YouTube
So, how do we make it meaningful? How do we design learning experiences that move beyond button clicking and don't turn our tablets into high-tech worksheets?
Connect online & face-to-face learning experiences 
Create opportunities for collaboration and choice
Choose high quality and easily accessible digital tools that promote creativity and critical thinking
Check out and try a variety of Blended Learning Models
Open an online classroom space for sharing content, comments, and questions
Design activities that give students ownership in the time, place, pace, or path learning takes
Station Rotation Model: Students rotate through a variety of connected small group activities. Small group stations could include: a teacher-led instruction station on percentages, a collaborative peer group station where students model percentages, an online activity station where students find examples of percentages in the world, and an independent station where students self-select resources to extend their application of the concept or self-remediate.
Flipped Classroom Model: Students watch videos outside of instructional time then focus on application during class time. This can be especially powerful if students are empowered to use strategies to self-select from a library of options based on their needs vs. having one video assigned to them.
Gradual Release & Flex Model: Students can seek out resources as needed and in effect crowdsource their learning
Digital Games for Learning
Technology can inspire us to explore concepts through playful inquiry. Even tools like the digital calculator on each classroom tablet can become part of collaborative games.
Key things to consider when selecting a digital activity:
Relevance: How does this activity align to student learning needs and instructional goals? Are my students discovering new ways to look at a topic? Are they enjoying an approachable fluency building game?
Purpose: What does this activity accomplish? Is it designed to inform? Teach? Persuade? Does the video or game encourage students to try multiple methods to reach a solution? Or just one?
Level of engagement: Is the activity fun, inspiring, or humorous?  Does it tap into student interests? Does it solve a problem my students are experiencing? 
Level of rigor: Does the activity challenge students? Does it support them in taking their conceptual knowledge or procedural skills further?
Differentiation: How does the activity support learners? Are there multiple levels, differing pathways, or support tools such as Math-to-Speech read aloud features?
Collaboration in the Classroom
Designing blended learning experiences can encourage students to engage peers as teammates and colleagues, while the digital tools enable new ways for students to brainstorm ideas, pose questions, and give critical feedback to one another.
Some of my favorite moments seeing peer collaboration in action have been:
Kindergartners choosing videos of their peers reading aloud their favorite math-themed storybook from a classroom online library. After viewing the video they would find the classmate sometime during the day to give them one compliment and ask them one question.
Middle school students leading an entirely online science fair using Google tools. They created team presentations focused on problems that affected their lives and communities. Data visualizations, explanations of findings, and even final presentations took place virtually with students using their class time to discuss progress, challenges, and successes.
A high school student explaining complex financial concepts about the economy to peers and later a visiting family member using a mix of digital media and her own classroom work.
Digital workspaces, like EquatIO mathspace and the web tools above, give students the chance to seamlessly connect their online efforts with real-world partners to share and deepen understanding.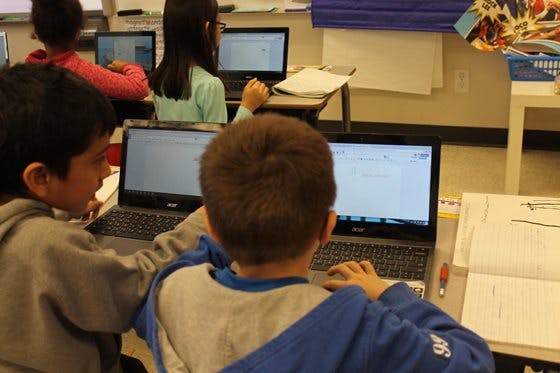 Assessment Should Be Fun
Somewhere along the way between preschool and high school showing our understanding loses some of the luster. Hands in the air become fewer and take a bit more facilitation from the teacher. Technology can help us provide more ways for students to make their thinking visible.
Quick ideas for using tech for formative assessment & student reflection:
Screenshots from a game as part of progress monitoring
Digital polls to quickly check for understanding
Student created forms as exit tickets
Putting it in Practice: Quick and Simple Tips for Getting Started
Making math digital also helps make it personal. At the end of the day that's what leads to empowered students that are ready to practically and creatively apply math concepts and skills.
To get started using technology as part of math:
Take an inventory of your resources
Chart out your goals, student needs, and student interests
Imagine what kinds of activities might best use your resources and fit your classroom needs. Have fun trying them out!
Have you started using technology in your math classroom? If so, what did you use? How did it work? What was some of the feedback from your students? Share your experiences below!