EquatIO is multiplying: our latest mathspace & STEM tools
(7th August 2020) -

Louis Shanafelt, EquatIO Product Manager
The feedback our wonderful users leave is priceless and helps drive our developer and product roadmap. With that in mind we are excited to share with you some new additions to our digital math tool, EquatIO. 
First up, we've got a new molecular viewer which will help students of all ages get to grips with the structure of molecules. There's also new ways to create and build mathspaces that allow you to enjoy a multipage experience within the same space, as well as new STEM tools that will benefit users of all ages. Read Louis' blog to discover what's new as well as getting a sneak peek into the future of our new STEM input button. 
STEM Tools - Full steam ahead in EquatIO
According to the U.S. Department of Commerce, employment in STEM occupations grew much faster than employment in non-STEM occupations over the last decade (24.4 percent versus 4.0 percent). 
We believe it's important to immerse students in STEM fields because it helps them become better critical thinkers, improves their literacy by exposing them to more complex words, and produces creativity which in turn leads to future innovators in a promising yet competitive workforce. That's why we are in the process of developing and rolling out a range of new STEM tools within EquatIO. 
Getting up close with molecules
Hot off our development floor is the brand new molecular viewer, designed to help students of all ages engage with 3D renderings of proteins and other chemistry structures up close. We worked closely with friends of Texthelp and EquatIO superusers on ways we could help students to examine the structure of molecules, and understand their geometry. We've provided different views of each structure such as ball and stick, a simple stick view, sphere, and more to help students understand the make up of chemical structures.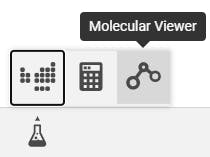 The next addition, which is now live is our new STEM tool 'beaker' button is a Periodic Table. The periodic table is a display of elements that are organized by their atomic number. The elements are arranged in a way that allows you to predict the element properties and chemical reactions, even if you don't know anything about that particular element.  
Users of EquatIO will simply select the STEM tool beaker and then select the very first icon above it to display an interactive window containing the periodic table, as demonstrated below. This will enable users to explore the full periodic table, find out more information on each element and easily insert the element(s) they need directly into their work using the Equation Editor.

That's not all...
In addition to the periodic table, we are thrilled to partner with Desmos once again, but this time we are bringing aboard their one of a kind 'Scientific Calculator.' Not only is this calculator now integrated into our product, it is the calculator of choice for National and International Assessments such as the IB exam, MYP Assessment, and the NWEA MAP Growth Assessment. 
It is also found in 35 of the 50 United States for their state standardized tests. Click here to find out whether this calculator is allowed on your next standardized test. Or watch the gif below to get started with our new calculator, which is located in the STEM tools interactive window:

A new mathspace multipage experience 
As well as working on some exciting new STEM tools we have also listened to our wonderful users and introduced a new Mathspace multipace experience. Where users benefit from the ability to make multiple pages in one mathspace thumbnail. 
Watch our video below to get started and discover how this new feature can provide your students with even more ways to engage with math and show their understanding in meaningful and personalized ways within mathspace. 

Exciting new Smart Shapes too
Not only are we excited to announce this new addition to mathspace, but we've also made some improvements based on user feedback to two existing Smart Shapes, as well as adding two new shapes: 'Compass' and 'Clock'.
The compass is great for showing angle measures and the clock allows users to see a clock with numbers already pre-established once inserted. After inserting the clock & clicking on it, you can then add a second hand, change to Roman numerals or set the clock to a desired time. The two enhancements to existing Smart Shapes include a number line and coordinate plane, which once clicked on open up a menu where you can add numerals to both shapes.

----------------------------
Let us know how much you love these new features in the comments below, or tell us if there's something you're longing for within EquatIO. And if you would like your school or district to benefit from EquatIO's digital math & STEM tools, visit our website to find out more.